Steel tanks are so common in urban and industrial settings that they scarcely attract attention.
That is, unless they're perfect spheres designed and built by TIW Steel Platework of St. Catharines, Ont.
The company was founded in 1907 as the Toronto Iron Works Company. Offering a 200,000-square-foot fabrication facility, the company designs, fabricates and erects a wide range of steel tanks in many configurations for the food, chemical, oil and gas, mining and pulp and paper industries.
The company is currently busy with oil storage tanks for the Alberta market.
The tank project team includes construction manager Glenn Alloway, contracts administrator Dan O'Hara and regional field superintendent Jerry Desjardins who works at TIW's Alberta office.
General construction superintendent Mario Lisella and project supervisor Val Bourgoin have both been with the company for 50 years.
The spherical tanks, known as "ASME storage spheres," are most often used to store gas under pressure, typically butane, propane or methane, though they're also used for gases such as oxygen.
The tank design equalizes pressure over the entire interior surface of the vessel.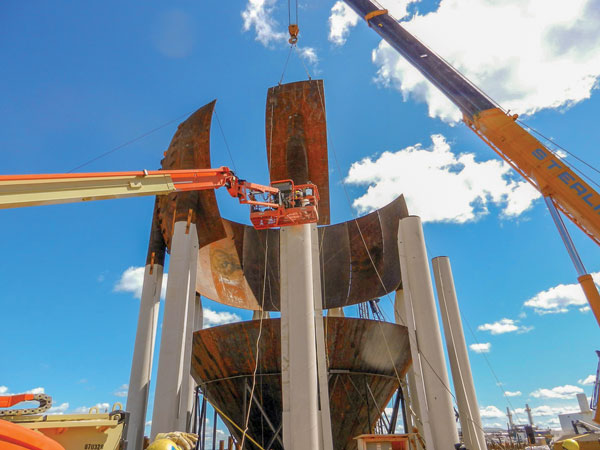 "It's the most economical shape to avoid any stress on the structure," says Alloway.
Tank projects begin with engineering, as design drawings indicate the locations of connectors for legs, valves, baffles, staircases, catwalks, cross-members and other intricate features that make the vessels functional and accessible.
Plates made of pressure-tank-grade carbon steel are produced at TIW, then sent to a sister company to be "dished" so that they can be assembled into a sphere. Preliminary assembly work is completed at TIW.
"We try to assemble the largest prefabrications we can in the shop that can be shipped and erected economically," says O'Hara. "Welding is much cheaper in the shop than in the field."
Components are shipped to project sites by truck or rail. TIW handles domestic erection projects, but in most cases, international jobs are erected by contractors in those countries.
TIW has worked on vessel projects for a range of countries that include Guatemala, Honduras, Peru, Mexico, Spain and India.
All storage spheres are hydro tested using water under pressure before commissioning.
"Sometimes the spheres have to be hydro-tested in the winter," says Desjardins. "You can imagine the challenges there."
South America is a large market for spherical tanks, because gas distribution infrastructure is less widespread.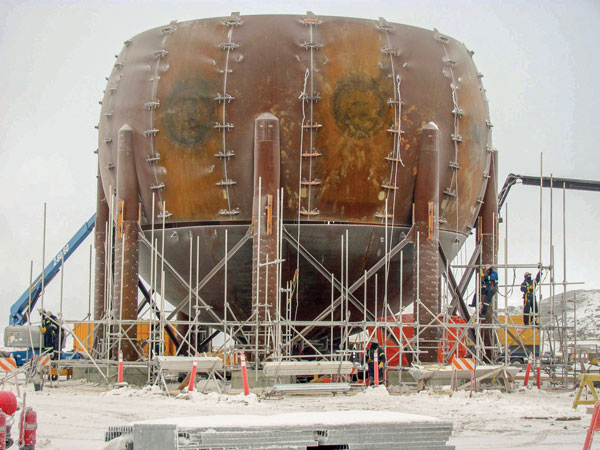 "Gases such as propane are delivered in liquid form under pressure," says O'Hara. "They're stored in spherical tank farms and gasified for local distribution."
The largest spherical tanks the team has ever fabricated measure 77.5 feet in diameter. TIW exported 18 of them to a buyer in Central America who completed final construction.
Lisella identifies the most challenging sphere project in his career as assembling the components of a pair of spheres for the Irving Oil Refinery in Saint John, N.B. The spheres measured a little more than 68 feet in diameter and the steel used was roughly 2.5 inches thick.
"We partnered with a company called PDM who supplied the materials," says O'Hara. "It posed many unique challenges. The carbon steel had a little bit of an alloy to it, so it required preheating. Being that thick, the components required a lot of welding. We created specialized fixtures to rotate three plates, so we could weld them on the ground using submerged arc. Afterward we had to wrap the structure in insulation and heat it internally to 1200 degrees F for four hours to stress-relieve it."
Bourgoin recalls working two shifts a day with a crew of 50 over the space of a year to complete construction.
TIW also builds hot lime softeners destined primarily for Alberta oilsands projects, where they play an important role in recovering process water and steam. They're spherical on top, but extend to a point, like an inverted teardrop.
"They're fun and challenging vessels to build," says Alloway. "They're not considered pressure vessels, but they're quite complicated on the inside, involving compartments, baffles and spray nozzles, with water running through a catalyst as the first stage of a water filtration process."
International competitors are eager to go head to head with domestic tank suppliers, but TIW continues to press what it sees as a Canadian advantage.
"The Canadian climate can vary significantly across the country and we have established relations with local unions and their A-team welders," says O'Hara. "As a team, we can complete a project regardless of what the weather throws at us."