The Labourers' International Union of North America (LIUNA) Local 506 Training Centre in Richmond Hill, Ont. is expanding to meet the growing demand for skills training.
"We need the space," explained Ted Gedney, training director for the LIUNA Local 506 Training Centre. "We've outgrown the existing building. It's about increasing our ability to increase apprenticeship and skills training.
"There are many more demands now on training and skills certification than there was 20 years ago."
The centre is located at 1600 Major Mackenzie Dr. near Highway 404. The expansion will add 46,000 square feet to the existing building, which was built in the early '90s and is 19,000 square feet. The property also includes another training building that is 7,000 square feet.
Construction on the expansion, which started in October 2016, is expected to be substantially complete in March.
The primary contractor and construction manager on the project is Northern Structures Ltd. Other contributors include primary consultant Bogdan Newman Caranci Inc. Architects and Urban Design Consultants; owner representative Gordon+Gordon Group Inc.; planners Malone Given Parsons Ltd.; civil engineer Cole Engineering Group Ltd.; and landscape architect Terraplan Landscape Architects Ltd.
The centre provides training to four recognized apprenticeship programs: construction craft worker, cement finisher, precast erector and hazmat worker.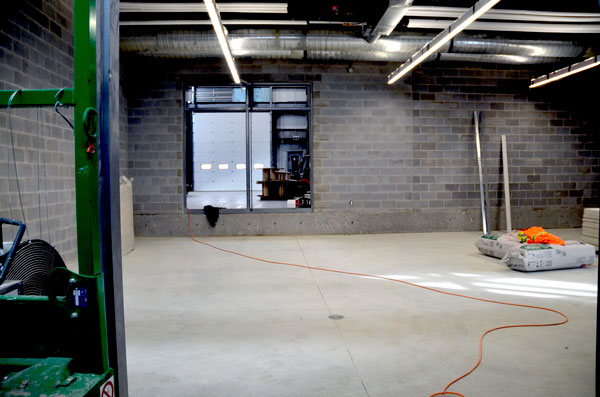 "We are looking to double our apprenticeship offerings," said Gedney, adding the centre currently trains 130 apprentices and hopes to grow to 250.
"There is a tremendous amount of work coming our way and we are very tight on labour."
Preliminary discussions on the expansion began in 2008. It took a few years to get the project off the ground as there were some setbacks with environmental and heritage concerns on the property which needed to be addressed before the project could move ahead.
"There is an awful lot to do before you actually get permits and get to put a shovel in the ground," said Gedney. "One of the challenges is we are marrying up two buildings. Weather was a problem. The ground didn't stay frozen long enough to bring cranes in and we got an early spring with a lot of rain."
The design and function of the building was key.
"This is a construction training centre so you want functionality and something that is durable," said Gedney.
"The size of the classrooms was important. We put in six large classrooms so we can do mock ups and have props inside the classroom. Right now we are very limited as to what we can do inside a classroom.
"We didn't want a finished look. I wanted an industrial look so they could see the mechanics of the building and how it was structurally put together. There is not a lot of drywall and finishings," he added.
Big, open training areas were also a must.
"We wanted open bays with high ceilings so that we could work at heights. We have connections for fall protection built right into the roof system and an overhead crane," said Gedney.
It was also important that the building look inviting and has good flow. Gedney said the new building has a sports complex look, a presence close to the street and has a lunchroom and multi-purpose room for graduations and small events run by the school.
"We wanted something attractive so that people look at the trade school as having college-type appeal, something that looks professional," said Gedney, adding it's important to recognize there are trades other than carpentry, electricians and plumbers.
"It's all about recruitment and getting people and parents to understand that the trades are a viable alternative to post secondary education. We have jobs, we have careers.
"There are a number of other trades out there and no one thinks of them, so it's difficult to recruit for the other trades. People don't really understand that there are many opportunities."