With Danish royalty on hand to add cachet to the event, the principals of Bayside Toronto developer Hines and Danish architectural firm 3XN recently unveiled a model of what will become, at 10 storeys, North America's tallest timber-constructed office tower.
Danish Crown Prince Frederik was on hand at the Hines Tridel Bayside Toronto Presentation Centre March 4 to celebrate not only the recent success of 3XN, winners of three straight design competitions for projects at the Bayside Toronto site, but also to launch a new architectural exhibition, titled Waterfront Architecture: Placemaking and Context.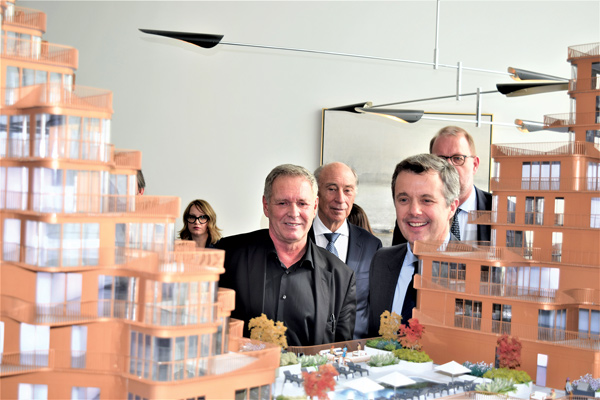 Kim Herforth Nielsen, the founding principal of 3XN, referenced the exhibition's theme in his remarks.
"When you build in Toronto, it's different than building in Copenhagen or in Sydney," said Nielsen. "You have to consider the context. It is about telling stories about the place, it is about making sure the project belongs to the site."
T3 Bayside will feature tall and connected open spaces throughout the building where people can interact and communicate, Nielsen said. The connectivity is intended to continue outdoors, with the staircase design encouraging worker interaction with the public realm as Torontonians flock to public spaces on the site on Queens Quay West to access the waterfront.
As for timber, Nielsen joked in suggesting tall wood was a natural fit in Canada.
"Of course timber, from the start when we came here in Canada we wanted to use timber because Canada is very much about trees, because there are so many trees here," he said.
Hines executives Michael Gross, vice-president in charge of construction, and Stephen Paek, a director for the firm, laid out practical reasons for the selection of timber for the T3 Bayside project in an interview.
Hines was awarded the right to master-plan the Bayside Toronto site by Waterfront Toronto 10 years ago and the firm has partnered with Tridel to build out the residential component, working with Miami-based design firm Arquitectonica on the first two residences, named Aqualina and Aquavista, and 3XN on the final two, branded as Aquabella and Aqualuna.
T3 Bayside will be the first of two office buildings at the site and will be helmed by Hines alone.
Hines has previously worked on timber office buildings in the U.S., with builds in Minneapolis and Atlanta both reaching seven storeys, Gross noted.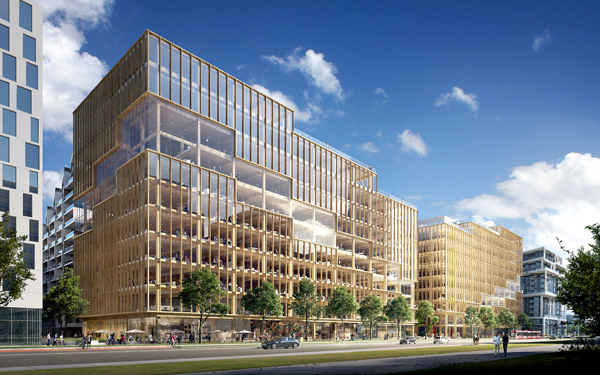 "Hines for five or six years has been pushing the idea of heavy timber offices because we understand the appeal to the tenant base," he said, comparing the wide-open loft-type spaces created by 3XN for T3 Bayside to those found in converted warehouses elsewhere in Toronto.
"Given the rents that the old brick and beam infrastructure commands, in the submarket King West area, we know that the market loves that kind of office space, so the opportunity to build a modern, amenitized version of that is almost a no-brainer for Toronto," Gross explained.
And T3 won't have the audibility problems, substandard air circulation, dated elevators and poor natural light typical of the converted warehouses, Paek said.
"It is the look and feel of the exposed timber, and there are clearly the sustainability benefits of using timber, and people want to see timber," he said. "There are studies that show the impact of exposed timber and what it does to productivity, and the psychological benefits and the work benefits, all those reasons."
The start of construction is targeted for early 2020 with completion aimed for as soon as the end of 2021.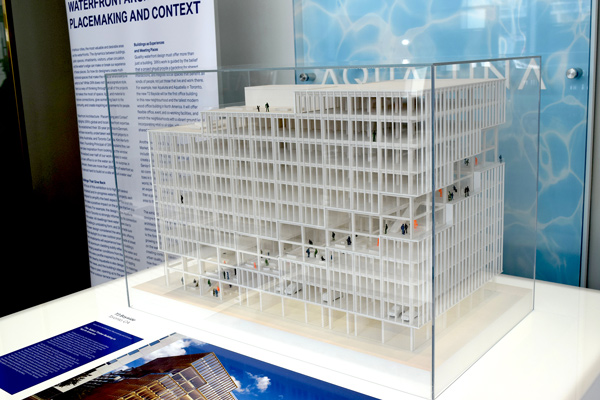 "We do believe there are scheduling benefits," said Gross. "The taller the building, the more benefits you get compared to a cast-in-place concrete building. It is a bit more complex only because at 10 storeys we are going above what the Ontario Building Code allows prescriptively, so we are going through a process with the City of Toronto to get their formal approval of an alternative solution."
An example of process modification with wood, Gross explained, was in designing the ventilation system.
Cast-in-place concrete buildings generally incorporate drop ceilings to house the infrastructure but with T3 Hines is aiming to minimize obtrusive ductwork to enable as much timber as possible to be exposed.
"From an actual process standpoint, it is not that much different from doing a steel building, in that you have a trade that comes and puts the pieces together," he said. "You get a bit more of the work done offsite, because the floor panels can be done offsite and dropped into place."
The crown prince did not speak at the event but Nielsen paid tribute to him as a patron of Danish architecture and supporter of sustainability, innovation and placemaking. On a 2015 visit to Toronto, Frederik had raved about Danish architects to representatives of Tridel and Hines, Nielsen said.
"Those words meant something, and that's why we're here today, and collaborating now with Hines and Tridel, so that had an impact," Nielsen commented.