Toronto's new Indigenous Hub is not only groundbreaking in its co-ordination of multiple services such as health care, child care and job training for Indigenous Torontonians, but it's been designed with significant Indigenous input into sustainability and place-making as well.  
The official launch of the Hub, located on a 2.4-acre property on Cherry Street, took place June 21, National Indigenous Peoples Day.  
The project is a partnership of Anishnawbe Health Toronto (AHT), Kilmer Group and Tricon Residential. At build-out the site will contain the four-storey Anishnawbe Community Health Centre; the Miziwe Biik Training, Education and Employment Centre; a heritage building to be developed for commercial use by Dream and Kilmer Group; and two residences, the 13-storey Canary House condominium structure launched by Dream and Kilmer Group in February, and an 11-storey residential rental building to be developed by Dream, Kilmer Group and Tricon Residential. 
The new health centre is scheduled to open by the end of 2022 while the other projects are targeted for completion in 2024.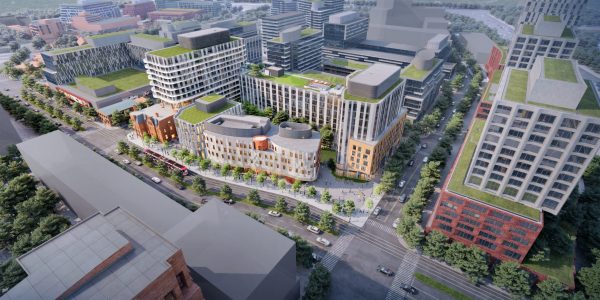 The groundbreaking was hosted by Andre Morriseau, chair of the Anishnawbe Health Foundation, with a ceremony that was livestreamed. Joe Hester, executive director of AHT, said, "The site will be a gathering place for the Indigenous people from across Turtle Island and a home to support the reclamation of culture and identity."
Among the many ways the project is notable, suggested Jason Lester, vice-president of development at Dream, is that a small Indigenous design firm, Two Row Architect, played a major role in contributing to master planning and site-wide design and even schooling the bigger project designers such as Stantec and BDP Quadrangle on Indigenous design principles.
"What we did for the overlay, to make sure that everything's integrated and connected, Two Row Architect has the responsibility for all the design on the exterior to make sure everything is integrated," said Lester. "It was a learning lesson for both BDP Quadrangle as well as Stantec for what is Indigenous design, and it's very sophisticated.
"We wanted to learn from Two Row what Indigenous design was all about, and how they brought much more richness to the project."
Matthew Hickey, a partner at Two Row, is a Mohawk from Six Nations and said collaborations between mainstream and Indigenous professionals represent a major opportunity for growth.
"Mainstream architecture, they know what they're doing, they've got the manpower behind them. We're a fairly small firm, there's only 10 of us," he said. "So for us to go after super large projects, it takes up a lot of our manpower, so we prefer to consult in that way and team up with different architects."
Working with BDP Quadrangle, Two Row developed eight Indigenous design guidelines that ensured all aspects of the Hub reflected Indigenous knowledge and values. The Canary House condo building, for example, will feature pebble walkways representing river stones from the adjacent Don Valley River, an earth-based podium, and curved building corners representing clouds.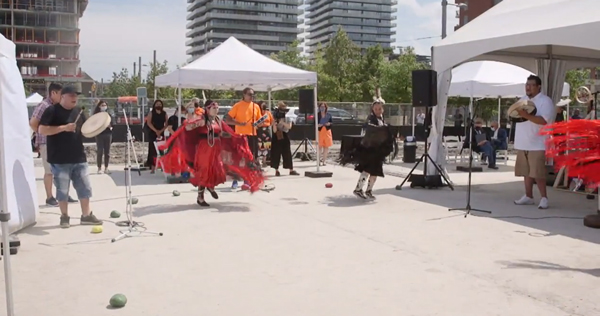 Other design firms that worked on the Indigenous Hub included NAK Design Strategies, landscape architect for much of the block, and ERA Architects, heritage architect.
The Anishnawbe Community Health Centre will feature a traditional sweat lodge and ceremonial courtyard; group meeting and counselling space; and a child assessment and play therapy facility.
The Miziwe Biik training centre will offer Indigenous skills training, education and employment programs operated by the Miziwe Biik Training Foundation and will also have an Indigenous-focused child care centre. 
"The owners there, they are Indigenous, so they want and need to have their buildings reflect the ways that they think, the knowledge that they have," said Hickey of Two Row's contributions to those buildings.  
As for their input into the master plan and the site components, Hickey stressed there won't be any dreamcatchers or teepees to be seen.  
"What we're trying to do is embed…the narrative for the building ideas about Indigenous knowledge – directionality, the way that the sun moves, the acknowledgement of the sky and the ground, the understanding of place, the importance of the Don River.  
"The Don River was this massive delta, it was very fruitful, birds, all these things that were sustaining life. As a Haudenosaunee person, as a Mohawk person, all of our clans would be found in that area. 
"So thinking about the urban realm…it was really important to us for people to understand place and where they're standing and what was there before." 
Landscaping on the site will support biodiversity – outdoor spaces will not be paved over, Hickey said. Referring to mainstream sustainability standards such as LEED, WELL and Passive House, those have been Indigenous practices for thousands of years, he said.  
"To support plant species and to support all the other animals and birds and insects that live in those areas as well, it's not just about humans, in this case it's about supporting all living things."
Follow the author on Twitter @DonWall_DCN.