Veteran Toronto developer Charles Goldsmith figures Toronto's Leaside Innovation Centre will be the last full project of his long career. But the 73-year-old is positive about the decision – he's going out full of enthusiasm and delivering a project laden with innovative features.
Designed by Greg Latimer, principal of studioCANOO, the six-storey office building has been styled to fit in with the well-worn industrial buildings in the Leaside Business Park in east-central Toronto. Goldsmith and his partner Peter Schultz accepted Latimer's recommendation to use mass timber and assembled a team including structural engineer David Moses of Moses Structural Engineers that proposed using thin-brick veneer external panels to further boost sustainability.
Another green building feature is a 40 per cent glass-to-wall ratio that reduces the size of mechanical systems required.
The centre, with its 11-foot ceilings, exposed timber and ample natural light, is suitable for the tech sector and Goldsmith said there is lots of interest, especially given its proximity to the Eglinton LRT.
"I didn't know much about mass timber to be truthful," he said. "The more research I did, the more I became in love with the project.
"The project just moved me. I was so excited."
Many of Goldsmith's builds since the housing crash of the '90s have been modest infill housing projects, beset by what he calls significant interference from Toronto's planning department. One small project took eight years to get through the planning and permitting process, built and wrapped up.
But with the Leaside build, his partner has been completely supportive as Goldsmith has developed a vision and after three years planning approvals have been obtained.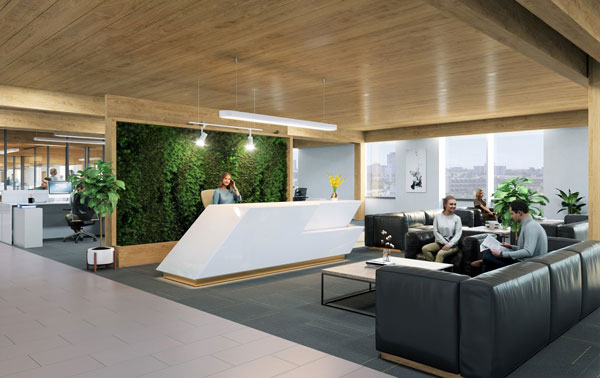 "I had the opportunity to develop this without interference whatsoever. That was really, really important, because you do need to keep your wits about you, the way you're doing a project. No two projects are the same."
Goldsmith said the team included "the best people I knew." While he had never worked with mass timber before, he said, "Mass timber is just post and beam."
People like it because "it's warm and it really feels good. So I said, let's use that and the converted warehouse concept and come up with that feeling of warmth and beauty, and we've done it, I think."
Other participants in the project are Gillam Group as contractor, WND as planner, landscape architect LANDinc and Camino, responsible for the raised flooring system.
The centre will feature cross-laminated timber (CLT) floor plates, glulam beams and columns in a design that will weigh 25 per cent less than a traditional structure, requiring less concrete in the foundation and thus lowering the carbon footprint. Goldsmith personally visited the Element5 mass timber plant in St. Thomas, Ont. to familiarize himself with the product.
The exterior cladding is also light but delivers high-quality insulation and airtightness, the developer said.
Since the timber and the veneer panels are both fabricated off-site, construction will proceed very quickly, with the pieces assembled like a Meccano set, Goldsmith said, and perhaps only a two-year building timeframe.
"The building goes together very quickly. We're using a very advanced panel wall system on the exterior that come in big, big sections already designed and constructed for our site. They get lifted into place and they are very, very tight.
"It's way more efficient than traditional building, and the other thing is that it closes in really fast."
The building will also boast a mechanical ventilation air supply treated with Ultraviolet Germicidal Irradiation (UVGI) and MERV 13 filters to improve indoor air quality and minimize airborne contaminants.
Goldsmith is not sure when construction will start but he's targeting this year. Building could commence when the project is 50 per cent leased or another option is that one firm will buy the whole building.
Regardless, he intends to shepherd the project through to its finish, targeted for 2024, and after that he anticipates he would only consult on future projects as he takes more time to enjoy semi-retirement and visit family in British Columbia.
Meanwhile, on this final build, he said he is grateful that it has provided him with an opportunity to expand his knowledge and support the next wave of change.
"Open yourself up to accepting change and being part of marshalling that change."
Follow the author on Twitter @DonWall_DCN.