Plans are in the works for the first-ever mass timber Passive House condo project in Toronto, a venture between R-Hauz, Windmill Developments and Leader Lane that will include three six-storey residential buildings.
The project, to be built near the Mimico GO station in Etobicoke, will have a total of 83 units. R-Hauz has been working to create a repeatable design that can be easily built on sites in close proximity to one another.
Much of the materials used in the building, including wall panels and flooring, will be prefabricated in a factory off-site and then trucked in when builders need the materials and be assembled at the worksite.
"We're trying to focus on a repeatable product where we can really establish a kit of parts and then dial it in to a site and, in this case, we can copy and paste three times which allows us to build it quicker, and make it more efficient for the trades and everyone down the supply chain that's involved," explains Kyle Power, director of construction at R-Hauz.
"Our big focus right now is trying to prefabricate the wall panels, including pre-cladding them, and prefabricating the floors.
"We're looking at some other elements but we have to be conscious of what the supply chain is capable of delivering. It's just trying to get the market to come with us and see that it can be done differently."
R-Hauz recently built a pilot on Queen Street East in Toronto. It was the first all mass timber six-storey residential building in Ontario.
"That pilot really provided a lot of lessons learned in the adaptations and enhancements that we can incorporate into the next generation of product," says Power, noting the structure of the building was erected in just five weeks.
"The goal at that time was to do one to prove the concept works and it can be done.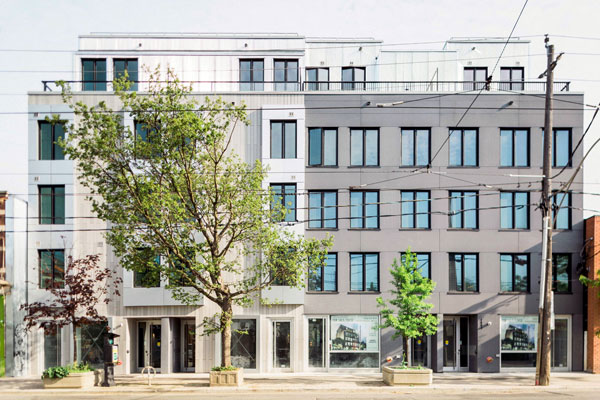 "It was super-quick. It was incredible. We think that's where the future of the market is – it's just kind of dragging everyone with us."
The approach, according to R-Hauz, will help address the city's need for affordable missing middle, laneway and infill housing. Using wood is more sustainable than concrete and steel and prefabricating buildings off-site and assembling them quicker at the building site reduces waste.
"This will really let us deliver a product much sooner and get it in the client's hands and, ultimately with what we're doing, provide housing that's needed in the market faster than conventional builds," says Power.
"We're really trying to establish our kit of parts and to work with a bunch of partners in the supply chain because we want to do the same thing over and over again – and to just keep getting better and do it really well, so we can provide a sort of steady consistent workflow that we continue to learn from."
Power expects a more refined kit of parts will be established to allow the company to fine-tune its construction program, the team and enable it to scale-up and continue executing in 2023.
"We're just trying to find all the right partners that share that vision and goal and want to work with us to execute. I'm excited for the future, it's going to be fun."
Each of the condos is being developed to Passive House standards and will be targeting LEED Platinum certification and the One Planet Living sustainability framework which is comprised of 10 principles and detailed goals.
Presently, the project is in the design stage.
Although shovels aren't in the ground yet, R-Hauz anticipates there will be scheduling issues to overcome due to material shortages, supply chain disruptions and a shortage of labour.
"I've found the last couple of years in the construction industry have been exponentially harder from the labour workforce and that shortage, and then the supply chain constraints that continue and the volatility in the commodities market, it's been a steep learning curve to try and stay ahead of things," says Power.
Logistics of ensuring materials arrive onsite when they are needed will be a priority, he says.
"The off-site logistics are one element where we're trying to fabricate as much as we can in Ontario and as close to the site as possible, but also recognizing that the market and supply chain has its own limitations we have to work with. A lot of the sites we're doing – and the focus of our product – is urban infill where the physical construction logistics just become extremely challenging."
R-Hauz plans to rollout the concept on other builds.
"They are really demonstrating the concept works on these constrained sites and getting that message out to the wider market," says Power.
"The industry is going to continue to evolve and grow and products like ours will help to move it in the right direction going forward."
That forward-thinking approach is exactly what drew Power to work at R-Hauz.
"They are trying to do some really different things in the industry. I wanted to be a part of that. It's a lot of fun."