Students with mental health challenges from George Brown College (GBC) are learning some of the best lessons and experience can be gained outside of the classroom.
"Learning doesn't always have to be in a classroom with four walls," said Suzanne De Freitas, an augmented education program manager at GBC, adding the pandemic has changed education. "We have to think outside the box now. We really have to redefine what education can be and will be moving forward.
"On top of that we also have to provide a safe space and a good experience for the students, because if you are not in a safe space and a good headspace, learning cannot take place."
When the pandemic put in-person learning on hold for the Construction Craftworker program, De Freitas and her team decided to get creative. Part of George Brown's Augmented Education, the program offers free courses for people who have experienced complex mental health challenges and/or addiction and prepares them to find and maintain employment.
In the early days of the pandemic, the capacity of the construction labs at the Casa Loma campus in Toronto was significantly reduced. While construction craftworker students were able to complete theory and soft skills courses online, the faculty had to look for opportunities for the students to complete the hands-on component. 
"We started looking for projects that we could do that would provide the same skillset that they would learn in the lab and we came up with this project," De Freitas said.
They connected with Melena Gibner, a retired contractor who owns a farm in Clarington, Ont. called Mystic Pines. She is currently in the process of converting her property into a wellness retreat for people who have struggled with mental illness.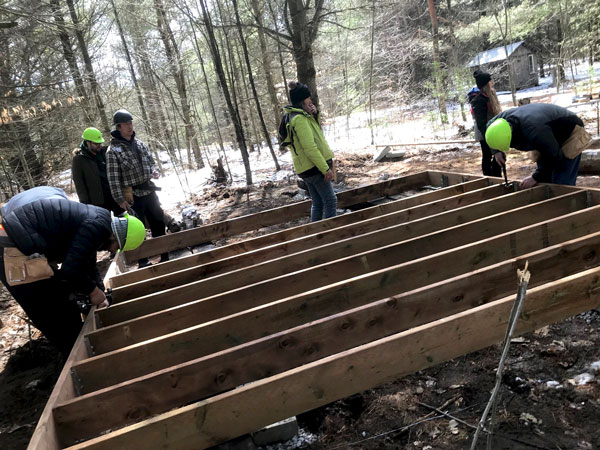 "She decided that she wanted to start turning her farm into a healing farm, a place where people could come to heal," explained De Freitas, adding Gibner also rescues retired racehorses. "She slowly transitioned her farm into a non-profit organization where she wants to build these cabins. She wants people who are recovering from mental health and addiction to come and spend several weeks or a month in the cabin and they can connect to nature and the land."
It's been proven that spending time in nature provides health benefits to the body and mind and aids in mental and physical wellbeing, she added.
The project started the week of April 18. The students are bussed to Clarington Monday, Tuesdays and Wednesdays. From 9 a.m. to 4 p.m. they work together to build a 14-by-24 cabin in the woods.
"It's very basic, it's a sleeping cabin," De Freitas said. "The faculty has designed it so that all the skillset that will have been learned in the lab are in the cabin. We're building a cabin and a little deck on the front."
They are making good progress so far.
"They've done four days and they already have the foundation set, they already have the floor joists in and they have insulation between the joists," she said. "They've just finished the pouring and then they're going to start building the walls, framing, insulation, the framing for the roof and then the roof and the drywall."
The cabin is expected to be complete by June 30.
Gibner provided the materials and the college and the students are providing the labour.
"The students are getting the experience and they love it," said De Freitas.
During the program at the college the students are tasked with building a barricade.
"They needed to learn how to cut certain angles and then they put this barricade together and then when they are done and marked they have to take the barricade apart," De Freitas said. "This is something they are building. They are getting the skills that they have to learn but then it's going to be an actual structure that will stay there. They're so excited about that and they can't wait to see it done…The amount of pride that comes with it is awesome."
There are many benefits that come with the students building a structure from start to finish.
"The benefit is they will actually know how to build an entire structure," De Freitas said. "In the labs we do roofing, bricklaying, painting, drywalling. They do all these things separate and move onto the next skillset, whereas in this particular case…they are building an entire building as opposed to just putting a couple of pieces of drywall together.
"They see how it goes together and how it actually becomes a structure, a home for someone."
Follow the author on Twitter @DCN_Angela.