Sprinkler fitter apprentice Cameron Little is not new to skills competitions, and although he finished first in his latest contest, he admits it had its challenges.
Little, a UA Local 853 apprentice and sprinkler fitter at Troy Life and Fire Safety in Windsor, Ont., won a gold medal in the UA International Apprentice Competition in Ann Arbor, Mich. recently. The week-long competition included various challenges as well as a main project and theory component.
For the main project, competitors had a base header and frame and had to install three valves and trim them with overhead piping, air compressors and wire it to the fire alarm panel.
"There's a time crunch," Little told the Daily Commercial News. "You've really got to strategize and have an order of operations for how you want to complete it in how much time you have while still maintaining a high level of quality so your project looks good and functions when you complete it."
He also won a gold medal in the Skills Canada National Competition in Vancouver earlier this year.
In June, Little won the UA National Apprentice Competition held in Richmond Hill which qualified him for the international competition in the U.S.
Little, who has been working as a sprinkler fitter for two-and-a-half years, says theory is his biggest weakness.
"The theory was a challenge for me because I am just going to trade school for the first time next week so I'm at a disadvantage compared to everybody else in these competitions because I haven't gotten the theory exposure yet," he said.
The UA national competition included plumbers, welders, steamfitters and HVAC technicians from all over Canada. The contest involved common challenges such as rigging, copper soldering and stainless tube bending and then each trade had its own main project and theory exam.
Little had a strong performance in the main project portion of the competition. They had 12 hours over a day-and-a-half to complete it.
"It was close. Everybody was very talented," he said. "I believe my main project is what set me ahead, how much I completed in the time we were given. Mine was pretty well complete. The other guys were a little bit behind. I just had a few minor things to touch up."
To win the international competition, Little beat out out five Americans and one Australian competitor.
"I was definitely most surprised at this one because the competition was pretty fierce," said Little. "It honestly was anybody's game. There were three or four (competitors) out of seven that were pretty close to scoring the same. They tell us at the beginning of the week to keep pushing even if you don't do great on a smaller project like rigging or the theory test because you can still make up the points over the week."
All the trades did rigging and a theory exam, a fire pump flow test on the inspection and testing side of the trade.
"We did a copper project, soldering, a plastic project and then we had a main project as well for this one which was a two-day project," Little said.
He added he did surprisingly well on the theory component.
"One or two of my competitors had already become journeymen since starting this competition process," he said.
Little thinks working in a smaller city gives him an advantage.
"Coming from the Windsor area, it's a smaller area so we get to see a more diverse scope of work than other areas like Toronto where somebody might be on the same project for their entire apprenticeship," he noted. "Or you have companies where service and new construction work are completely separate so you might do your whole apprenticeship doing construction only and never get to see the service side. I'm definitely lucky to be where I am and getting that exposure to all different aspects of the trade."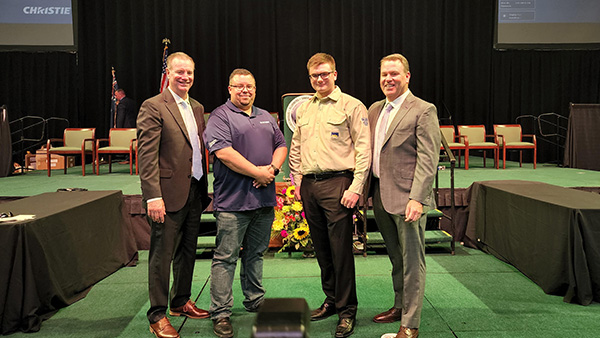 While he is not able to participate in next year's competition, he will be attending as a chaperone and providing support to the next generation of competitors.
And he has some advice to those participating in the competition.
"Take your time to look over the plans and drawings. Read the instructions carefully because small details matter. You want to make sure you have everything right," he said. "Get a game plan in your head before you start working and don't let small mistakes or problems you have early in the competition discourage you from still giving it your all the rest of the week."
Follow the author on Twitter @DCN_Angela