Purolator has officially opened a new national sortation facility in Toronto, tripling the capacity of the former facility in Ontario and increasing its network capabilities through new automation, advanced scanning and sorting technology. 
The $330-million, 443,084-square-foot National Hub is strategically located on Humber College Boulevard in Etobicoke near several major highways including Highways 401, 407, 427 and 27, said Mike Staples, director of national hub projects with Purolator.
"It's well-positioned within Ontario to make sure we can get everything in and out of the GTA and the province," he said. "Purolator bought the site 20 years ago with the intention of building the hub.
"With the growth of e-commerce and volume of people using express shipping, the need for people to get things delivered very quickly drove up the need within Purolator and changed the dynamics of what we shipped and how we shipped it."
Pomerleau is the general contractor on the project and Turner & Townsend is the project manager. Körber (formerly Siemens Logistics LLC) supplied the material handling equipment. Ground was broken on the new hub, located on a 62 acre site in May 2020, during the first wave of the pandemic.
When operating at full capacity, the new hub will process up to 70,000 parcels per hour, indicates a release, adding the new hub also includes innovative technology that can unload a trailer in under 10 minutes or up to 12,000 parcels per hour, 10 times the amount possible through manual efforts.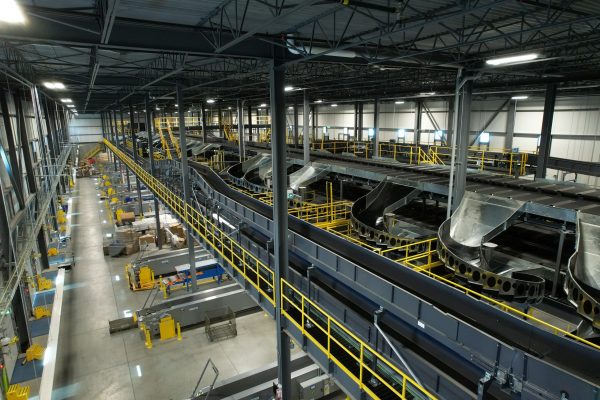 "This is the first facility Purolator has built that is fully integrated automation, data and all the computer level controls," said Staples. "The previous hub was built in the late '80s…This now has the power of being able to use all of our data, so we have much better visibility for all of our parcels coming in. Once a parcel is in, we can measure it, weigh it, we know where it is, where it's going."
Purolator wanted the building to be energy efficient and environmentally conscious.
"We've implemented high efficiency motors," said Staples. "We've got over 1,100 motors driving all the material handling equipment. We get a 15 per cent gain on energy usage, we get an annual savings of about 439,000 kilograms of carbon avoided. We've done something similar with our generators. Because our service is essential, we've actually got natural gas generators installed to run the entire building should the power go out. In the past typically they were powered by diesel."
In terms of the design, Staples described it as "a bunch of doors with walls around it." The facility's design supports further growth, offering a scalable workspace to match demand during peak volume periods.
"The driver of the business assumptions as we were looking for the design of the building was how many outbound destinations are we going to have to service and what does that look like, trying to predict that 25 years down the line," said Staples. "We actually did development of the sorting system concept, how we would bring in volume, simulated how we would sort it in different types of destinations going outbound to get a sense of how many outbound doors we would need, how much time we would need to sort the equipment and then we wrapped the building around the doors."
It's a slab-on-grade warehouse with a concrete façade on the ground level and insulated metal panels above that.
"The intent is that we built it with some level of resilience for transportation backing up into a building everyday," said Staples. "We wanted to make sure it was a very robust system at dock level."
Purolator also incorporated elements for employee health and safety including guard rails, sensors and ergonomic equipment to reduce the risk of physical injury. Amenities for the facility's over 1,000 employees also include a dedicated multi-faith space, a 6,500-square-foot cafeteria and patio, a wellness room and a training centre that is double the size of the previous location. Natural light has also been incorporated.
"We've got windows around the perimeter so you can actually see that it's bright outside instead of someone telling you it's a nice day," Staples noted.
"We made an effort with the lighting to increase the brightness in the facility, so you don't feel like you're in a dungeon. It's a more open, brighter environment."
The facility also includes a wastewater reclamation system, a white roof that can hold three million litres of water and a grey water reclamation system that will hold a million litres.
"It's doing filtration and disinfecting and we're using that for the irrigation system and for flushing of toilets," Staples said. "We're really trying to limit what goes into the stormwater system."
The design also meets the Toronto Green Standards program.
"Where we would traditionally have a huge amount of asphalt, it's all white concrete for the heat deflection and we've also got porous pavers," Staples said. "We've got water going back into the ground instead of diverting it into storm drains. We also incorporated a dozen chargers for electric vehicles."
Follow the author on Twitter @DCN_Angela.