Long-time Niagara Habitat for Humanity (H4H) COO Keith Gowans has switched from the charitable family housing sector to niche urban infill housing that targets singles and couples, launching his own business along with two former H4H colleagues.
Gowans has committed to the compact housing sector, also known as tiny homes, in support of the expansion of affordable housing capacity across Ontario.
His firm will be targeting neglected spaces such as parking lots, storage areas and other underutilized properties for prefabricated plug-and-play units either built on stilt-like supports or installed in tandems or communities.
The fledgling company, Aloft, was an exhibitor at the Tiny Home Show held in Hamilton from Aug. 4 to 7.
"Municipalities are really going to look for a variety of solutions," said Gowans. "The CMHC's latest stats are that 3.5-million housing spaces are going to be needed in Canada in the next seven years, by 2030. They're going to be forced to look at all these things where they might have turned a blind eye to it before."
Tiny Home Show co-producer Bianca Metz spent part of the first day of the recent show hosting city planners and other officials in discussions of planning and zoning issues. She cited the provincial mandate to intensify cities and avoid sprawl as growing factors in the rise of compact housing.
"Municipalities across Ontario are reshaping their official plans in accordance with the provincial planning act, which requires the inclusion of sustainability goals for their cities," said Metz in a statement.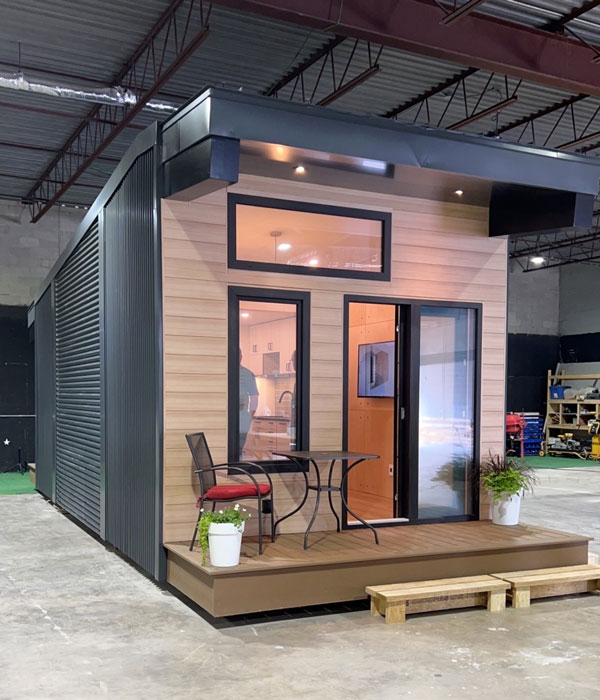 "When looking to build more homes, municipalities can look at sustainable, green and affordable options for developments and builds. By making zoning bylaws more inclusive of tiny homes and tenant-owned secondary dwellings and recognizing sustainable utilities and services like incinerating toilets, grey-water systems and cisterns, municipalities can introduce more housing while reaching sustainability goals."
Gowans turned advocate on LinkedIn recently, writing, "Why do we keep thinking growing our suburbs is good for prosperity? How much more does it cost the public to build infrastructure and provide services for sprawling suburban development compared to more compact neighbourhoods where all the infrastructure exists?"
Aloft was launched earlier this year and its executives have been meeting with municipalities, affordable housing advocates and property developers to pitch their solutions. The lofts are built modularly at Aloft's St. Catharines manufacturing facility, typically fitting a footprint of 11 feet by 24 to 33 feet, accommodating a car parked beneath.
Gowans estimates the typical cost to be $174,900 without installation or land costs, with the unit coming fully equipped and furnished including washer-dryer combo units, three-way oven system, dishwasher, fridge and freezer, three-piece bathroom, full mattress system, storage throughout and German-engineered windows. The structure can later be moved to another location if desired.
The frame and roof are steel, the cladding is high-end engineered aluminum and interior walls are a PVCu panel system.
Manufacturing can take two or three months and site preparation and installation with ground screws can be accomplished within a week, Gowans said.
"Plug and play. The only thing you need is clothes and dishes."
Gowans and company co-founders Trevor Dunscombe and Craig Brown had experience in modular housing installations with H4H. Gowans said his firm's products dovetail with current calls for housing affordability, resilience and rapid installation, along the lines of the CMHC's successful Rapid Housing Initiative.
Gowans said he and his partners are designing homes that their offspring will be able to afford as well as new Canadians including refugees.
"It's a really, really big issue, and it'll be crisis mode in a short amount of time," he said of the lack of affordable housing.
"This is one tool. It's not the ultimate solution, but we think we play a big part in it."
Based on conversations the Aloft team has had with interested parties, Gowans expects manufacturing to ramp up by Q4 of this year with deliveries in the first quarter of next year.