When heritage restoration of the Sandford Fleming Building at the University of Toronto calls for replacement of damaged sandstone, you replace it with sandstone. Unless that sandstone turns out to be a lookalike engineered concrete product produced by the Roman Stone company of Toronto in the earliest years of the 20th century.
The discovery was made during a restoration project carried out by BRC restoration for Dineen Construction Corporation on behalf of the University of Toronto. The scope of the contract includes removal and replacement of damaged exterior masonry, repointing of masonry joints, masonry cleaning, conservation and restoration of architectural wood elements.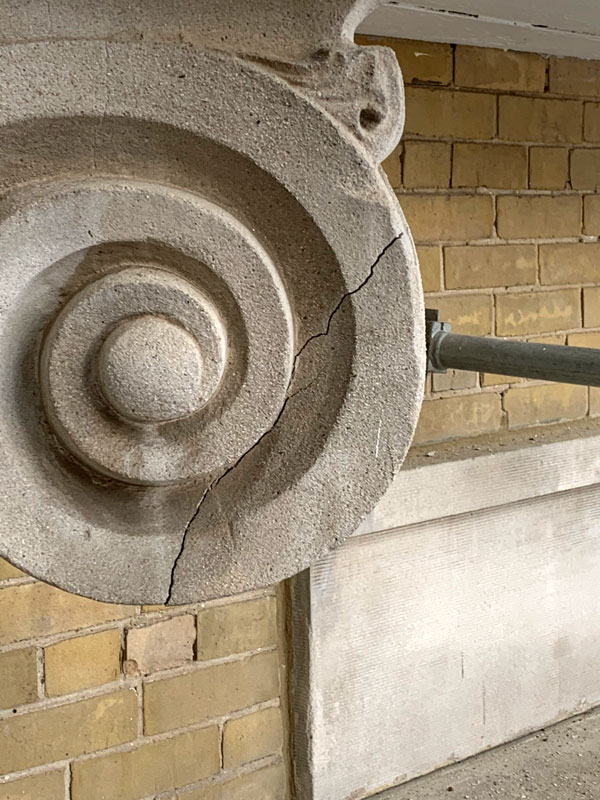 "Once we erected the scaffolding and began to remove damaged stone, we found metal reinforcement inside the units," says Arran Brannigan, president of BRC Restoration. "Obviously this wasn't sandstone. We contacted the project team and our prime consultant, Engineering Link, and called a temporary halt to that part of the project so we could send samples to arconTEST, our materials testing lab. With additional historic research, we were able to determine the elements were made of Roman Stone."
The Sandford Fleming Building — originally known simply as the "Physics Building" —was designed by architects Darling & Pearson and built in 1907 to serve as the University of Toronto physics laboratory.  The Roman Stone Company had been established just four years before the building's construction and was owned by Sir Henry Pellatt, also the owner and builder of Casa Loma.
Roman Stone was precast in sand moulds, could be reinforced with steel and produced large blocks stronger than limestone and sandstone at a competitive cost. The mix was exacting, employing high-quality cement imported from Germany at twice the cost of local product. The elements were coloured using mixtures of crushed and sieved Niagara limestone and various shades of sandstone. Once cured and released from the mould, craftspeople would further carve the stones by hand.
"It's only speculation, but it seems like a new a new and innovative engineered product such as this would have been something that would have been very appropriate to use for an engineering building at the time," Brannigan says.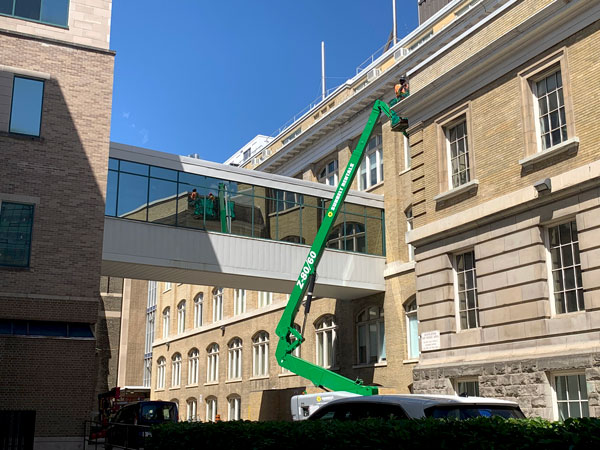 However, it was rusting of the reinforcing steel inside the precast Roman Stone that now caused the greatest damage, especially where architectural elements protruded beyond the building face — primarily over doors and windows — and were exposed to rain and snow.  
BRC sent further samples of the stone to arconTEST to create a mix design that would replicate Roman Stone and allow the contractor to devise both a matching repair compound and provide a process for casting large replacement blocks.
"Under normal circumstances you would get a manufacturer to colour match the stone, provide a mix and simply add water," Brannigan says. "In this case we needed a composition analysis to determine how many parts of each component were used.  We batched and cured samples on site in test runs until we got the colour and texture right."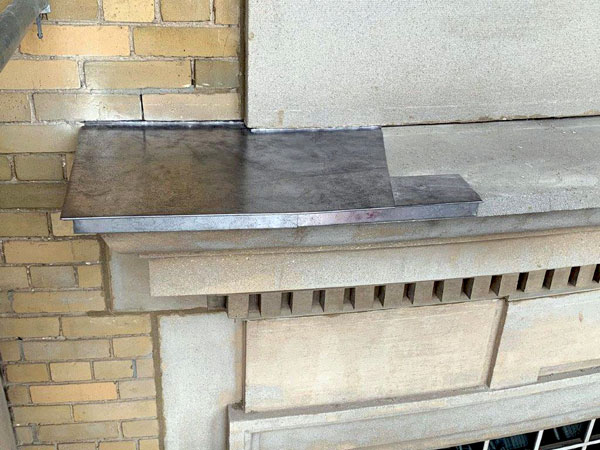 Large replacement blocks were cast offsite by MP Architectural using modern rebar. The largest block measures 10 feet long, 1.5 feet deep and a foot high and weighs about a tonne. It will be used to replace a lintel  — the stone used above a doorway.
"The building has held up remarkably well for over a century," Brannigan says. "To help preserve both old and new stonework, we're replacing the original lead-coated copper flashing with a historically accurate product and are adding it to the top of stonework where we believe it will provide greater protection in the future."
Work began on the project in June 2021 and, at the peak of construction, employed eight stonemasons and additional carpenters and metalworkers for a crew of 14. The project is expected to conclude this summer.