TORONTO — Conrad the beloved raccoon, a design that recreates a kaleidoscope and a space inspired by lighthouses across Canada were just some of this year's Winter Stations creations.
Eight winners in total were selected and most will be on display at Woodbine Beach in Toronto this February.
Two stations, Conrad and (the)HOME, will be on display outside of the city. The installations will start at a satellite location in Mississauga and in the spring (the)HOME will move to Sir Casmir Gzowski Park in Etobicoke's Sunnyside neighbourhood until the summer, while Conrad will remain in Mississauga.
The annual international design competition tasks participants with designing temporary winter art installations that incorporate existing lifeguard towers located across the beach. The contest, which launched in 2014 and was founded by RAW Design, Ferris + Associates and Curio, aims to draw people to the beach during the winter months.
The theme for this year is radiance: the quality or state of being radiant.
The winners include:
Conrad, by design team Novak Djogo and Daniel Joshua Vanderhorst (Canada):
Conrad was a raccoon that died on the corner of Yonge and Church streets in Toronto in the summer of 2015. He inspired compassion and warmth in the hearts of Torontonians and the installation is a monument in his honour.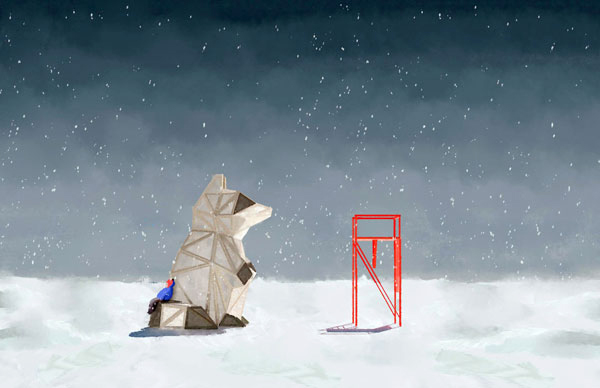 The (Home) by design team Scott Shields Architects (Canada):
Playing with the idea of emitting and transmitting light, a simple shaped pavilion with carved bright-coloured walls offers a constantly changing experience throughout day and night. While the dawn light shines through the colourful glass and letters creating a vivid kaleidoscope pattern, dusk brings a completely different experience with the light originating from within and spreading its sculptured glare to the outside. The red lifeguard tower stands in the centre of the pavilion, resembling a person residing at their homeplace.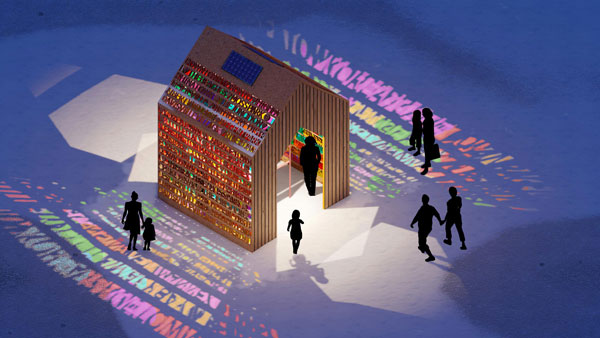 LIFE LINE by design team WeatherstonBruer Associates – James Bruer, Nick Roland, Jacqueline Hampshire (Canada):
LIFE LINE proposes an interactive station that materializes the transfer of joy through a shared, auditory experience. Participants can place a ball at the top of the tube, and send it rolling through a series of windchimes, creating a soundscape for others to enjoy at listening stations along the length of the tunnel.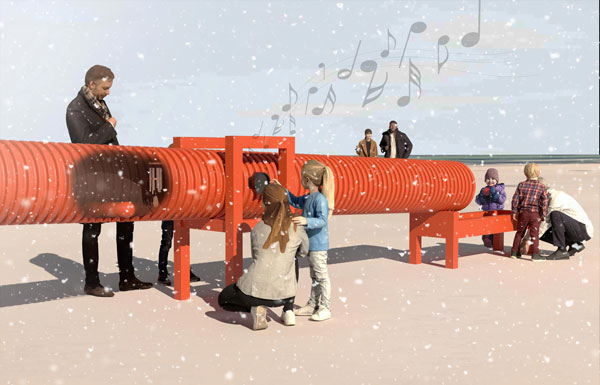 3 Surfaces Pavilion by design team S-AR – Cesar Guerrero, Ana Cecilia Garza, Orlando Garcia (Mexico):
Three surfaces form this pavilion. The first is pavement that marks the area on which the other two surfaces, different sized yellow curved pieces, are placed.
The user can gather around or inside the pavilion, stand, sit or lie on the surfaces that call to be inhabited in very different ways. The materials for the construction are simple, modular metal frames that are covered with wooden boards.
Delighthouse by design team Nick Green and Greig Pirrie (United Kingdom):
It is inspired by lighthouses in coastal settings across Canada and beyond and is a self-assured landmark guiding visitors to approach. While traditionally lighthouses are warnings, this installation is a welcoming beacon of hope.
The confident and colourful pattern evokes a sense of play, casts onto ground panels radiating out from the tower to embrace visitors. The tower is clad in painted timber boards and scaled to house the lifeguard stand. Structurally, eight tapered timber frames lean inwards, joined to form the tower.
Ripple Hut by design team Toronto Metropolitan University Department of Architectural Science (Canada):
Ripple Hut emulates the form of aggregated canoes and offers an alternative approach to the beauty and craft of canoe fabrication. The structural connections of the pavilion depict ripples in the water.
We[AR] by design team University of Guelph, School of Environmental Design and Rural Development (Canada):
WE[AR] encourages connection, humanism and the strength of living in community by demonstrating the power that can be achieved when a community pulls together. Whether it is in Canada, the United States, Ukraine, Africa, Iran, Afghanistan or anywhere in the world it demonstrates the strength of solidarity in addressing social challenges. Human rights, women's rights, LGBTQ2S+ rights, pay disparity, mental health, racial discrimination and sexual violence are among the issues addressed.
Winter-net by design team University of Waterloo Department of Architecture (Canada):
Freshly fallen snow is typically seen as a blank canvas waiting for humans and animals to leave their mark on it. Winter-net looks to instead utilize snow's ability to stick to porous surfaces as an ink for creative expression. Radiating from a central lifeguard stand, a series of layered nets woven between a structure of wooden posts filter and catch snow and sand over time as they are carried along by the wind. While walking through Winter-net, participants are encouraged to interact with the nets in a similar way by covering them with snow to create a variety of forms and light conditions throughout.