TORONTO — Dream Unlimited, Kilmer Group and Tricon Residential, working together as DKT Partnership, have announced the launch of Maple House, a rental community of 770 units in three buildings to be built in Toronto's downtown east.
Maple House is the first phase of Canary Landing, a 12-acre community to be comprised of 2,300 rental units. Thirty per cent of Canary Landing will be dedicated as affordable housing and 25 per cent will be barrier-free.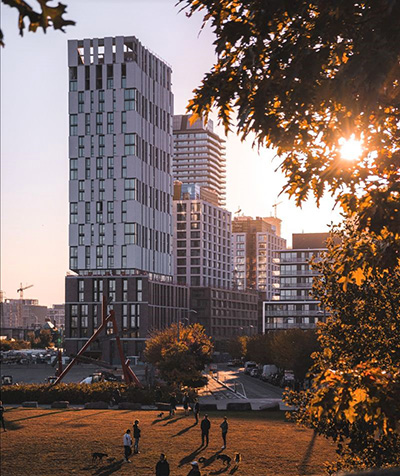 Canary Landing will include eight mixed-use buildings spanning four city blocks along Cherry Street. In addition to the rental housing, Canary Landing will have 30,000 square feet of retail and a future 5,000-square-foot community space. The development is located in the Canary District community, described in a release as a pedestrian-scale urban village adjacent to the Distillery District.
Canary Landing is a public-private partnership between DKT, the Province of Ontario, the City of Toronto, the federal government and the Canada Mortgage and Housing Corporation.
Maple House was designed as a three-building residence by Cobe, Claude Cormier x Associes and architectsAlliance. The project will include 126 rental homes that will be created in partnership with seven non-profit agencies from across the city, including WoodGreen Community Services, Artscape, COSTI, Wigwamen, Performing Arts Lodge, March of Dimes and Interval House. The affordable rental homes will be offered at 40 to 80 per cent below the average market rent.
An additional 105 affordable rental homes will be available to the public through an open market call. All 231 of the affordable homes have been financially supported by the City of Toronto's Open Door Program.
"We are grateful for the collaboration with our municipal, provincial and federal partners as we work towards our shared vision for Canary Landing, which will target ambitious LEED Gold sustainability outcomes, and provide long-term market rental and affordable housing," stated Andrew Joyner, managing director at Tricon Residential, in a statement. "Maple House is the start of fulfilling our promise to create beautiful, sustainable and affordable housing, and we look forward to seeing residents thrive in this vibrant new community very soon."
Maple House has already earned a Canadian Architect Award of Excellence and the 2021 BILD Award for Best New Community.