TORONTO — Nine wood projects that demonstrate the role wood construction can play in addressing some of the larger challenges facing society such as housing supply, sustainability and the skilled trades shortage were celebrated at the 23rd annual Ontario Wood WORKS! Awards.
The awards program honours the people and organizations that, through design excellence, advocacy, and innovation, are advancing the use of wood in all types of construction.
Ontario Wood WORKS! presented the awards at a reception held at the Hockey Hall of Fame in Toronto, an event hosted in conjunction with the Ontario Forest Industries' 80th AGM.
The winners were:
Shingwauk Kinoomaage Gamig Anishinawbek Discovery Centre, Sault Ste Marie
Architect: Two Row Architect
Engineer: Timber Systems + WSP Thunder Bay
Contractor: Colliers Group
Wood Supplier: Timber Systems
Neil Campbell Rowing Centre, St. Catharines
Architect: MJMA + RAAI
Engineer: Blackwell Structural Engineers
Contractor: Aquicon Construction
Wood Supplier: Timmerman Timberworks + Nordic Structures
Passive Laneway Housing Prototypes, Toronto
Architect: Baird Sampson Neuert Architects
Engineer: Local Impact Design
Contractor: Index Construction
Wood Suppliers: Kabinetry Design Studio + Richmond Laminate
YW Kitchener-Waterloo Supportive Housing for Women, Kitchener
Architect: Edge Architects
Engineer: MTE Consultants
Contractor: Melloul Blamey Construction
Wood Supplier: Element5
12 Ossington Avenue, Toronto
Architect: Hariri Pontarini Architects
Engineer: RJC Engineers
Contractor: Hullmark
Wood Supplier: Structure Fusion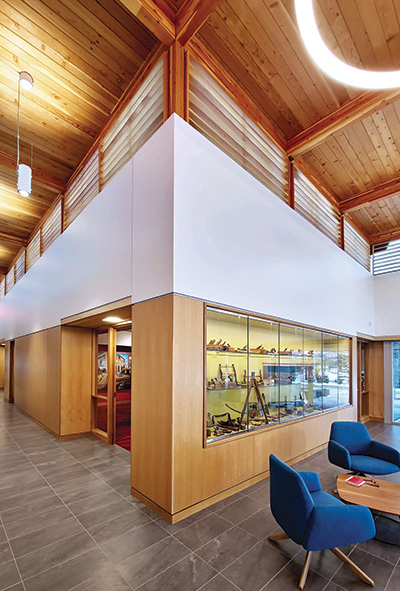 Carpenters Union Local 249 Training Facility, Kingston
Architect: Shoalts and Zaback Architects
Engineer: RJC Engineers
Contractor: United Brotherhood of Carpenters & Joiners Union Local 249
Wood Supplier: Timber Systems
Port Stanley Fire Station, Port Stanley
Architect: Thomas Brown Architects
Engineer: Stephenson Engineering
Contractor: PK Construction
Wood Supplier:Element5
Churchill Meadows Community Centre and Mattamy Sports Park, Mississauga
Architect: MJMA Architecture & Design
Engineer: Blackwell Structural Engineers
Contractor: Aquicon Construction
Wood Supplier: Bryte Designs/ Nordic Structures
Nshwaasnangong Childcare and Family Centre, London
Architect: Two Row Architect
Engineer: Latéral
Contractor: Sierra Construction
Wood Supplier: Element5