Not all stained-glass in older North American church buildings is created equal and dalle de verre — meaning slab of glass — is one that evokes either admiration or groans.   
There are only a few glass artisans in Western Canada who are willing to handle this 1930s form of glass which advocates see as a post-Second World War modernistic movement creating vibrant, gem-like windows and feature pieces. Others shun it for its construction defects that tumbled it from grace in the '70s onward.     
"Most people have never heard of dalle de verre," said Jan Lindstrom, a 44-year veteran of the stained-glass industry.
She designed dalle de verre windows, one each for churches in Courtenay and Campbell River 18 years ago. It's not a commission that comes often.
She is one of two western Canadian glass outlets that can take on dalle de verre projects and she creates dalle de verre art pieces to show in her Courtenay workshop and store.   
"When you see the sun shining through dalle de verre, it looks like jewels," said Lindstrom, who runs Jan's Glass by the Sea and has designed her home's gate with dalle de verre.
Dalle de verre stained-glass artist Jean Gaudin originated the form in France, moving away from standard one-eighth inch thick glass to thicker one-inch pieces of glass gaining richer colours.  
The window pieces were laid on a non-adhesive surface and originally concrete poured in the crevices to bind the glass, leading to the name mosaic glass.   
Dalle de verre fell off in the '70s as it was found that the windows degraded as concrete expanded at a different rate than the glass. However, since then, new epoxy resins have evolved and are used extensively for restoration work.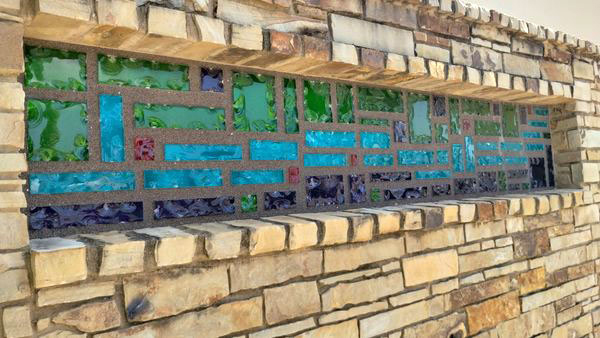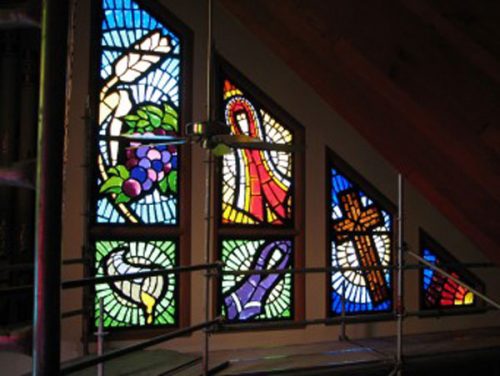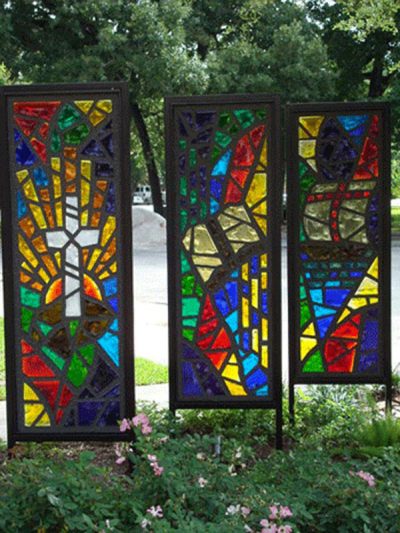 The bulk of the work is in churches and religious structures. Spokane's Steve Talbott, owner of Glass by Glass, was called in 1998 to do dalle de verre for a mausoleum's addition.
"The new wing had to match the old style," he said.
Talbott said conventional stained-glass does not compare to dalle de verre, mainly because of the faceting that occurs.  
Small chips or facets are made randomly in the edges of dalle de verre pieces of glass, leaving semi-circular patterns in the glass, like ripples in a pond. When the sun hits these areas there is a rainbow refraction effect into the piece of glass.
"It sparkles and is nothing like stained-glass," he said. "It is almost spiritual."
Talbott, like others in the industry, believe there are areas where dalle de verre can experience a revival as the lead used in traditional stained-glass is now falling out of favour.   
Tracy Durham, second generation artisan of family business Bissett Stained Glass in Edmonton, has also done dalle de verre art pieces. She knows the challenges. The company completed 16 dalle de verre windows (broken into 32 panels) for the St. Thomas d'Aquin church in Edmonton. The 310 square feet of resin and glass weighed 3,100 pounds.
"The space has to be able to support the weight of the panel," she said. "It is four times the weight of the normal stained-glass panel."
Then there is cost.
"It is two to three times the price of a traditional stained-glass window." 
Still Durham is a fan.
"It is really quite special," she said, adding when traditional stained-glass is put next to dalle de verre glass, "it can look a little washed out."
Andrew McCausland of Robert McCausland Glass, Canada's oldest stained-glass company, can do and has done dalle de verre, including windows for a Toronto church, but he's not a fan. He feels the same brilliant colours can be achieved using blown glass and better detailed designs can be obtained in using other traditional stained-glass techniques.
Dalle de verre has a chunky look, he said.
"It hasn't been popular for 20 years."    
The U.S. has only a handful of go-to companies willing to undertake restoration or design of new dalle de verre pieces.
Freebird Glass, Inc. owner Scott Eaton sees 10 dalle de verre church projects come into his Texas shop a year from throughout his region but also as far away as California, New York and Pennsylvania as skilled artisans age out. 
While he knows the attributes of the glass – its bold colours – he also knows the historical and modern day drawbacks.
"It was over-used," he said as large dalle de verre walls were erected in the past when the craft knowledge had not evolved to sustain these artworks.
His restoration work is often correcting a lot of the mistakes, and experiments, that early artisans made.  
The drawback today is that there is only one resin manufacturer and one dalle de verre glass manufacture serving Canada and the U.S.
Shipping is expensive.
"Because of the (glass) weight, if we need a large volume, it is cheaper to send down our own truck," Eaton said.
Another emerging problem is the changing climate as extreme heat can compromise the integrity of dalle de verre panels in buildings.
"Where we see it having the most success is in (outdoor) residential," said Eaton, who has done a privacy wall with dalle de verre.
He also sees dalle de verre panels in meditation gardens or water features.
"They have a place in this world," he said.