Five years ago the construction industry might have ignored the digital world, often coined "the fourth industrial revolution," but old attitudes and mindsets don't cut it anymore.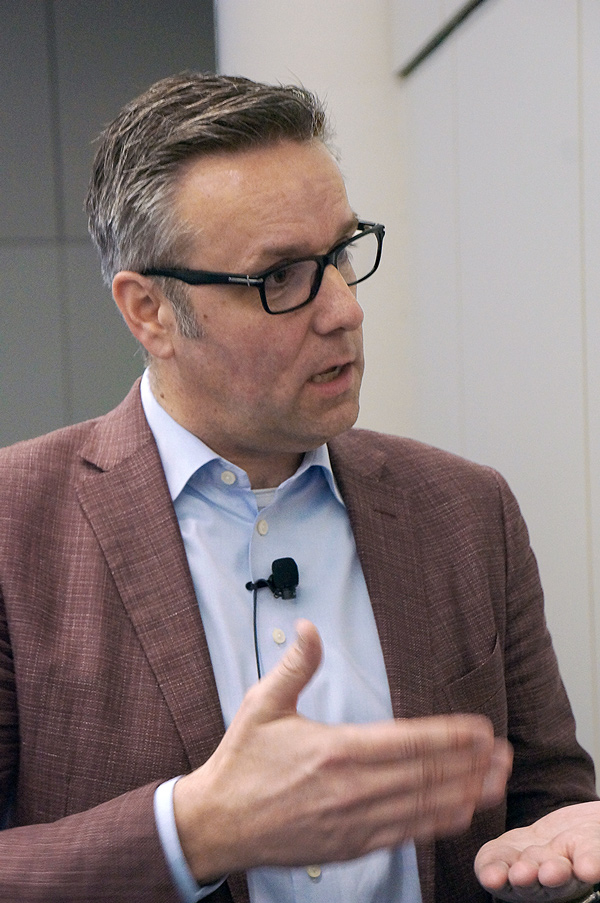 "The real cool stuff, the game-changing stuff, is coming at us really fast," Rick Huijbregts, vice-president of strategy and innovation at George Brown College, told a luncheon crowd at the Construction Specifications Canada (CSC) Building Expo held recently in Toronto.
A cultural shift is in order for an industry bent on doing things the way it has done them for decades, he said. Clients, building tenants, for one, demand new space fitouts to have an integrated digital infrastructure as a means of improving their method of operation, he explained.
"The technology is maturing. Now we need to get the industries to change their culture and embrace it."
The starting point is for contractors, subs, suppliers, consultants and owners to get on the same page, said the keynote speaker at the CSC's 41st annual conference.
Huijbregts oversees strategic planning and partnership development to ensure the college is positioned to adapt to changes in the digital world.
A building's ability to provide analytics in all aspects of its operation is becoming the norm, he stated.
A major information technology company he worked for demanded a digital fitout at a newly leased space "because we wanted real-time information on our energy, real time information on innovation."
I think in the next 10 years a lot of this is going to be mainstream
— Rick Huijbregts
George Brown College
To meet that end many builders must break from traditional ways, one of which is working in silos.
That isn't a small hurdle.
Until recently many building systems have been proprietary.
"They haven't been designed to talk to one another," he stated.
Huijbregts said even though some large contractors with the financial resources and a commitment to technology are making inroads, the industry overall is lagging behind many others.
"The way this industry works…it is so fragmented and (yet) so integrated. The GC may want it but if the electrician or the vendor or supplier doesn't have its piece to the puzzle it all breaks down," he said.
The industry could start to shift if owners insist on "fresh specification language, not specs from 15 years ago," Huijbregts said.
"The benefits are not the IT, the benefits are having data (analytics) so I (the owner or tenant) can respond to and control what is happening in the building and reduce costs."
He said big landlords such as Oxford Properties in Toronto are taking the approach seriously.
"I think in the next 10 years a lot of this is going to be mainstream."
Projections are that in the next 10 years 40 per cent of today's Fortune 500 companies won't exist. They will "either be gobbled up…or missed some transition and been left behind," he added.
Furthermore, more than 40 per cent of Canada's workforce faces a high risk of being affected by automation in 10 years. A positive takeaway is that 85 per cent of the jobs in 2030 "have not been invented yet."
He pointed to examples of where the building industry is evolving, such as Building Information Modeling (BIM) and augmented reality.
Huijbregts described "the digital journey" as when a company starts to use new tools, such as software and high tech equipment, that do not change how the company operates but "enables" the company to perform better. The next stage is to integrate their digital world with other players to develop a common infrastructure.