VANCOUVER — The heritage component of the Exchange building in downtown Vancouver is now a stylish modern hotel.
The 31-storey building is built on the site of the original Vancouver Stock Exchange building, and the facade of the original 1929 building extends 10 storeys upward and acts as a cornerstone to the new tower.
The original structure is now the face of the Exchange Hotel Vancouver, with 202 rooms and a fully restored Italianate lobby ceiling along with the original marble-clad Howe Street lobby.  An atrium lobby is adjacent to the hotel and is part of the LEED Platinum tower. A 110-seat bar and restaurant located on the mezzanine level is in the final stages of construction.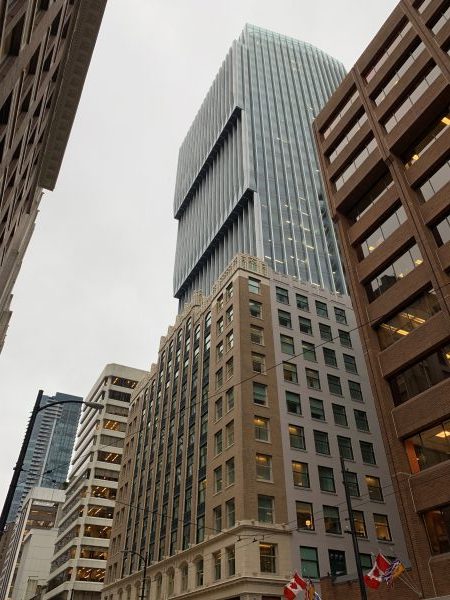 In November, Smythe LLP announced it will be located across three floors of the Stock Exchange Building, a move Smythe managing partner Bob Sanghera said would allow for growth.
"We are proud of the space we have created for our staff and clients, and feel our new office reflects the progressive, dynamic and innovative firm we have grown into," he said.
"We also feel good about being in Vancouver's first LEED Platinum heritage conversion, with highly efficient internal regulations, reduced energy costs, consumption and CO2 emission. This building is a welcomed addition to the Vancouver community."
The Credit Suisse project was built by PCL Constructors Canada and designed by Iredale Group Architecture and Harry Gugger Studio.
Gugger contributed to the design of London's Tate Modern Gallery and Beijing's Bird's Nest Stadium. The tower is the first major project in North America built from the ground up by Credit Suisse and is Canada's eight largest LEED Platinum office project. The project also received a 2017 American Architecture Prize for heritage architecture.
Vancouver's office vacancy rate is currently at 4.3 per cent, according to an Oct. 2018 report from research firm Cushman & Wakefield.