The Port Alice pulp mill boiler tower went down with a "kick" as its $90 million demolition and clean-up continues on northern Vancouver Island, joining a growing number of Canadian mills downed as world appetites change to recycled paper content and less newsprint.
The site's 50-year-old recovery boiler presented its own challenge as it required explosives to take down the structure, said Brad Morrison, general manager of Clearview Demolition in Chilliwack, which has been working on the clean-up for close to three years. 
"We used Winnipeg's Rakowski Cartage & Wrecking to set the explosives," he said, adding the companies devised an engineered and safe plan to set a low-impact implosion that used high-pressure liquid to kick the recovery boiler off its legs. 
"It allowed us a shorter safety radius," said Morrison, as demolition explosives at the Prince Rupert Skeena mill (one of the largest demolition projects with 60 structures) required a safe zone of 1,000 to 1,500 feet while Port Alice's tower, which came down in January, was less than 600 feet.
Morrison said traditionally explosives are timed in split-second sequences with the lineal shape-charge cutting through support legs, which in this case were 2.5-inch-thick steel, and then a kick-charge knocks the building off the sheered legs into a directional fall.
"Almost every other demolition company uses dynamite wired to the steel to kick it out of alignment," said Paul Pitzel, superintendent of explosives, blasting and vibrations for Rakowski.
But, one of the dangers is flying shrapnel.
Instead, the company designed a charge that essentially used a plastic jug filled with liquid and a straw-like column in the centre into which explosives were packed. These kick-charges detonated a milli-second after the lineal charge and the contained energy was enough to kick the building without spraying metal over a large area.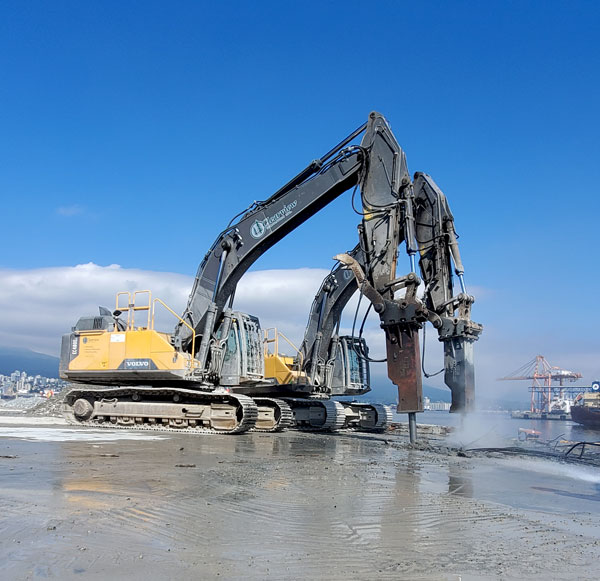 Before work began, the 100-year-old plant needed assessment.
"Our scope would include items such as floor assessment for loads, shoring and bracing for building stability, structural demolition sequences (i.e. what to cut first, what to cut last…) etc.," said Andrew Boettcher, engineer with aDB Engineering, in an email. "We also engineered the implosion of the main boiler structure (or to be more precise, rolling a building over triggered by explosives)."
The Port Alice project and the former Skeena Pulp Mill in Prince Rupert are among B.C.'s largest demolition projects, said Morrison.
"We are one of the largest demolition companies in Western Canada and that is all we do," said Morrison.
The company has also been involved in the Campell River Elk Falls pulp mill demolition and uses specialized equipment such as a high-reach excavator capable of a 96-foot height.   
The Port Alice site was abandoned in 2015 and went into receivership with PricewaterhouseCoopers (PwC) leading the clean-up which is spread over a landfill, the site and marine infrastructure.     
Clearview was contracted to demolish 650,000 square feet of building, carry out building implosions, disposal of the old bunker C oil, and salvaging and recycling metals and processing equipment onsite.
"The challenge was the remoteness of the site," said Morrison, as the community of just over 700 is located on Neroutsos Inlet, southwest of Port McNeill. 
Normally, water transport could be used but the marine infrastructure (also be demolished) was not able to accommodate transport.  Equipment and materials were trucked on and off the site. 
Approximately 5,000 tons of scrap metal was trucked out after Clearview crews cut it with hydraulic sheers and sorted metals to be delivered to Campbell River's Radius Recycling for shipping to Seattle mills for smelting. 
"The bunker oil was sent out as hazardous waste," said Morrison, as over one million litres of bunker fuel had degraded too far to be recycled.
It was mixed with sawdust and sent for incineration. Sludge in the settling ponds was also sent for incinerations. Approximately 7.2 million kilograms of sludge was removed from the aeration basin.
Enviro-Vac handled the asbestos removal onsite. Enviro-Vac's project manager Mike Baker said both fibrous and non-fibrous asbestos was removed from the old pulp mill.
"Pretty much what you would expect to find in an old mill," he said.
PwC's quarterly report said 774 tonnes of insulation around pipes and boilers plus roof, flooring and siding material was removed.
Morrison said his contract's last portion involves removing building foundations to grade with approximately 15,000 metres of concrete to be removed and crushed for site capping and fillings.
Throughout the project, Clearview practiced marine-side protocols to prevent inlet contamination.  Equipment also used green hydraulic fluids. 
In 2022, PwC gave a presentation to Port Alice village council summarizing other work done onsite, which included 795,000 litres of chemical removed, 80.8 million litres of water treated, 10.2 million litres of spent sulfite liquor dealt with, 23.7 acres of knotweed removed and four effluent tanks drained and cleaned.