Now in its tenth year, a multi-phase and multi-year restoration of a severely degraded watercourse in Toronto is entering its second-to-last phase.
Earlier this winter, Dynex Construction Inc. began erecting fences, installing silt socks, and completing other site work so that restoration of another 'reach' or section of the Mud Creek can begin.
Working under the supervision of a Toronto Region Conservation Authority construction crew, the contractor will be undertaking channel/regrading and installing approximately 850 tonnes of armourstone for the erection of armourstone walls and rock vortex weirs, plus building  a vegetated rock buttress along a 200-metre-long portion of the creek.
The construction equipment being used includes a hydraulic excavator, a front-end rubber tire loader, a skidsteer, a flatbed trailer for the armourstone delivery, and a tri-axled truck for all other material deliveries.
Materials have to be trucked along Heath Street, a small side street, stockpiled under a nearby bridge, and then transported to the work area by small machines along the Beltline Trail, a multi-use pathway which parallels the river, says TRCA project manager Divya Sasi.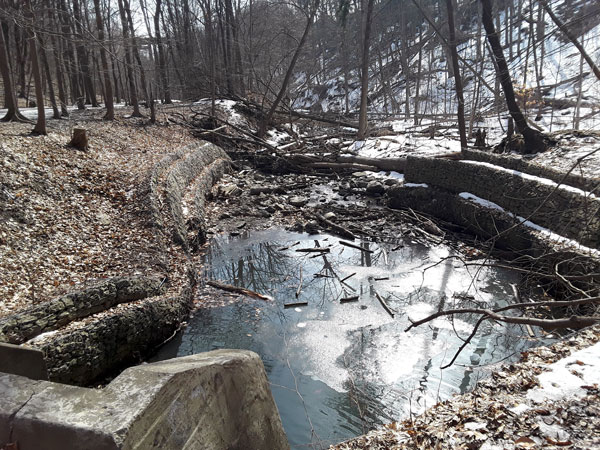 A portion of the trail near the work area has to be closed on weekdays to accommodate a safe access route for deliveries, along with maintaining the staging and stockpiling area.
"Realizing this (the closure) is an inconvenience to the neighbouring communities, we (the TRCA) consulted with the local councillor's office and residents' associations to get buy-in on the trail closure plan and disseminate the information to local residents.
"We hope the inconvenience to the public will be short-lived and soon we can all enjoy the Beltline Trail again."
Asked about some of the construction challenges, Sasi says, that due to the creek's poor fish habitat, Fisheries and Oceans Canada, is permitting construction during the typically restricted in-stream working window between April to June.
Tree and other vegetation removals also occurred outside of the key breeding periods as identified by Environment Canada, she says.
However, there are other constraints and deadlines which have to be adhered to. Late this summer another TRCA division will be completing works for a switchback trail just north of the work site and will be using the same staging and stockpiling area.
And Heath Street—which is the construction materials route—will be the site of a stormwater rehabilitation the City of Toronto will be starting in the fall, she says.
"So, we need to be finished by the end of summer."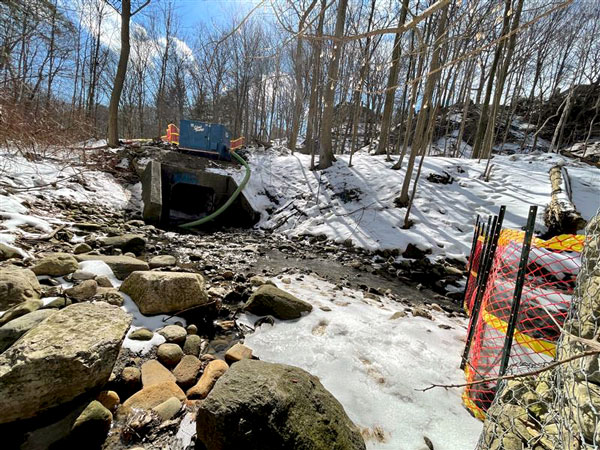 The $2.2-million undertaking is actually one is a series of six Mud Creek restoration projects which the authority has undertaken since 2012 in partnership with the City of Toronto's parks forestry & recreation division. This is the fifth one.
"We are anticipating implementation of the final reach in 2023-24, pending confirmation of funding from the city."
Located in the geographic centre of Toronto and a tributary of the Don River—which flows into Lake Ontario—Mud Creek experiences frequent and heavy stormwater flows, in large part because of climate change.
In non-urbanized settings, heavy rainfall will seep back into the ground. But in urbanized areas it is transformed into stormwater which undermines riverbanks and accelerates erosion. Along Mud Creek, that stormwater is also threatening the Beltline trail and a number of private properties backing on to a ravine the creek flows though, she says.
And that was the catalyst for the project, the need for which was first recognized in 2003 in the City of Toronto's Wet Weather Flow Management Master Plan.
"Mud Creek was identified as a priority watercourse requiring remedial works to address ongoing erosion and stormwater management issues."
To address those issues and propose "comprehensive solutions" for Mud Creek, a Geomorphic Systems Master plan, was conducted in 2012.
Its objectives including improving long-term channel stability, and long-deteriorated fish and local terrestrial habitats, "while concurrently protecting city infrastructure and private properties."
Mud Creek is split into six distinct reaches, each separated by culverts and possessing their own surface water characteristics. Restoring those sections has proceeded based on a priority system outlined the geomorphic plan, she says.
At this point, the TRCA has restored and repaired 860 meters of riverbank within the Mud Creek sub watershed. By the time the project is completely finished the authority will have restored and stabilized 1,140 metres of the riverbank, she says.