A mock coroner's inquest served as a unique teaching tool for members of the Hamilton-Halton Construction Association (HHCA) recently, with an official supervising coroner running the event and members themselves recruited as jury members and fill other critical roles.
Coroner Dr. David Eden told the HHCA audience attending the May 10 Safety Week event in Hamilton the coroner's office has been presenting mock inquests for 20 years and they are proving almost as valuable as the real thing.
"I often wonder if they are more effective in promoting worker safety than real inquests are," said Eden.
"After one mock inquest we did, we had an employer call us and say, 'we had 20 reports of hazardous situations, it's going to take a long time to clear them, but we are so glad.' The workers went to the workplace and identified things that could have killed or hurt somebody."
Coroner's inquests are called after every death in a construction workplace. They are scheduled after legal proceedings have taken place, if any, pursuing charges under the Occupational Health and Safety Act or the Criminal Code. Eden repeatedly stressed the goals are strictly fact-finding and to make recommendations to prevent future deaths in similar situations — not to assign blame.
"I am not in the blame business," said Eden. "My interest is in keeping people working. What we are looking at is, there has been a death and what can we do to prevent another one like it."
The fictional case involved an HVAC worker named Marie deBoyrie who was employed by a subcontractor working on a hospital build.
DeBoyrie arrived an hour late for work on a day when she would be working on a platform 15 feet above the ground. Since she was late, she missed the morning toolbox talk that a site supervisor, played by Aaron Besseling, in real life a project manager for Besseling Mechanical, had given.
It was confirmed deBoyrie had received training from heights and she seemed competent when she donned a lanyard, Besseling's character said in testimony, but he did not realize it had been almost a year since she had received her training and she had not worked at heights during that time.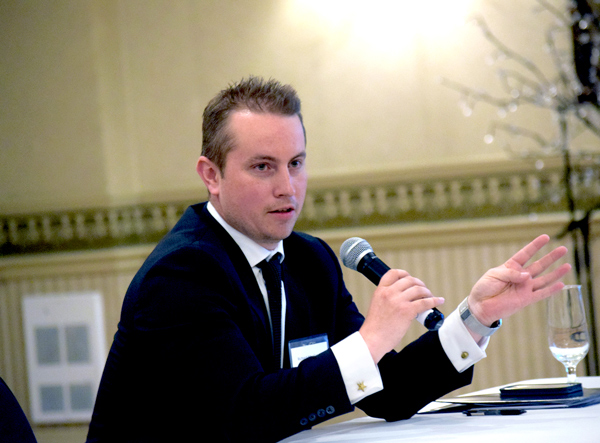 According to the fictional story line, deBoyrie later fell over the railing affixed to the platform while apparently reaching up to do duct work that was determined to be 22 feet off the ground, and suffered injuries that proved fatal.
A Ministry of Labour (MOL) witness played by Wade Feere, a real-life MOL inspector, visited the site and determined deBoyrie had been wearing a lanyard and was tied off but the rope was 20 feet long, too long to arrest her fall.
It was thought she had climbed up on a railing to reach the duct work and the platform had shifted, causing the fall.
Other witnesses questioned by lawyers acting as coroner's counsel and company counsel included the fictional owner of the main contractor and a site supervisor for the HVAC subcontractor.
At the end of the morning session, the jury offered a half dozen recommendations including urging that talks to discuss the work of the day be targeted to all employees, even those absent from the main group sessions; checking equipment to determine that it's fit to perform the function it's intended to perform; and calling for a procedure to ensure workers have recent experience with safety procedures they are being asked to follow.
The takeaway for HHCA members attending the session, suggested Eden, was they should "go around your workplace, look for hazards, and do what you need to to reduce the risk of harm or death to a worker."
The recommendations are intended to be communicated broadly throughout the sector, Eden said, and at times he has had to make a point forcefully when it has become clear safety stakeholders have not acted upon sensible previous recommendations.
"If there are recommendations from a jury that are self evident and easy to do, and the initiative hasn't been implemented, we have no problem calling the responsible person in the government or whatever and ask them, 'here is a recommendation from three years ago, can you explain to this jury what's wrong with that recommendation,' " said Eden.
HHCA general manager Sue Ramsay said she was pleased with the turnout of 65 members. The goal was both to alert them to the procedures of a coroner's inquest and also to reawaken them to safety protocols at all levels.
"It helps people slow down and think about things, and how we are going about safety, thinking it through, and all of the levels of responsibility that people play and making sure that everyone works safe," she commented.