In its recently released Non-Residential Capital and Repair Expenditures (CAPEX) Survey, Statistics Canada reported "capital spending (is) expected to increase in 2020 for the fourth consecutive year". Based on its survey of 25,000 private and public organizations, conducted between September 2019 and January 2020, the agency reported that capital spending on non-res construction and machinery and equipment was expected to increase by 2.8% in 2020 following gains of 9.8% and 1.7% in 2018 and 2019 respectively.
Virus and project cancellations put private sector CAPEX at risk
Before analyzing the composition of this year's projected capital spending, it's worth noting that Stats Canada conducted the CAPEX Survey before four recent developments which have created a climate of extreme domestic and global economic uncertainty. In our view, this heightened level of uncertainty will weigh heavily on private sector non-res capital spending plans which account for the bulk (65% in 2019) of total capital spending and were projected to increase by only 0.9% this year following a modest gain of 2.2% in 2019.
First, on February 24, against a background of heightened political controversy about energy investment in Canada, Teck Resources announced that it was abandoning its plans to go forward with its Frontier Project. With a projected cost of $20 billion, it would have been the largest oil sands mine in Albertan history.
Second, the rapid onset of the novel coronavirus contagion across the globe is largely responsible for a very sharp drop in investor confidence reflected by the almost 29% drop in the Standard and Poor's/Toronto Stock Exchange Composite Index and the concomitant 26% drop in the Dow Jones Industrial Average.
Third, following the protracted unlawful interruption of cross-country rail transportation, Warren Buffet's Berkshire Hathaway announced on March 5 that it was not going forward with its plans to invest $4 billion in GNL's Energie Saguenay Project.
Finally, there is a significant risk that the precipitous drop in oil prices triggered by the coronavirus-induced oil price war between Saudi Arabia and Russia will significantly depress energy and energy-related investment in Alberta, Newfoundland and Saskatchewan.
To put these developments in perspective, the impact of the coronavirus crisis will likely cause an increased proportion of small- and medium-sized firms to shift their capital expenditures from the first into the second half of the year or, in a worst-case scenario, cause them to be shelved indefinitely.
While the Frontier project was not expected to impact CAPEX spending this year, its cancellation, together with Berkshire Hathaway's plans to pull back from participation in the Energie Saguenay Project, will cast a pall over energy investment in Canada in general and Alberta in particular for the next several years.
Public sector will drive CAPEX this year and probably next
While the near-term prospects for private sector capital spending are severely impaired by the above-noted factors, the outlook for public sector spending is more sanguine since government projects are budgeted well in advance and are not contingent on future profitability. After posting a very slight 0.8% rise in 2019, the CAPEX survey reported that public sector organizations planned to boost their spending by 6.5% in 2020. This increase was driven primarily (50%) by a 25% y/y rise in spending on transportation and warehousing projects which, for the first time since 2001, exceeded the mining, quarrying, and oil and gas extraction sector.
According to Statistics Canada, two-thirds of the increase in transportation and warehousing investment was due to increases in spending on transit and ground transportation projects in Quebec (+$1.9 billion), Ontario (+$738 million) and British Columbia (+$187 million). After transportation and warehousing, projected spending in the utilities sector accelerated by 9.1% to $32.9 billion in 2020 after posting growth of 4.4% in 2019. The largest contributor to this gain was a 30%y/y rise in spending on water and sewage systems, the bulk of which are in British Columbia and Ontario.
Across the country, Stats Canada reports non-res capital spending will exhibit the fastest growth in British Columbia (+7.8% to $41.8 billion), followed by Quebec (+7.8% to $46.4 billion) and Ontario (+4.4% to $86.1 billion). Smaller gains were reported for Nova Scotia (+1.4%), Saskatchewan (+0.4%) and Alberta (+0.1%).
Capital spending is projected to contract by 11.8% in Newfoundland and Labrador during 2020, largely due to the scaling back of spending on the Muskrat Falls project. Also, the CAPEX survey reported a slowdown in non-res investment in Manitoba (-7.3%), New Brunswick (-2.2%) and Prince Edward Island (-2.3%). As noted above, these survey responses were all pre-coronavirus and we expect them to be revised lower.
John Clinkard has over 35 years' experience as an economist in international, national and regional research and analysis with leading financial institutions and media outlets in Canada.
Private Sector and Public Sector Non-Residential
Capital Expenditures – Y/Y % change – Pre-Coronavirus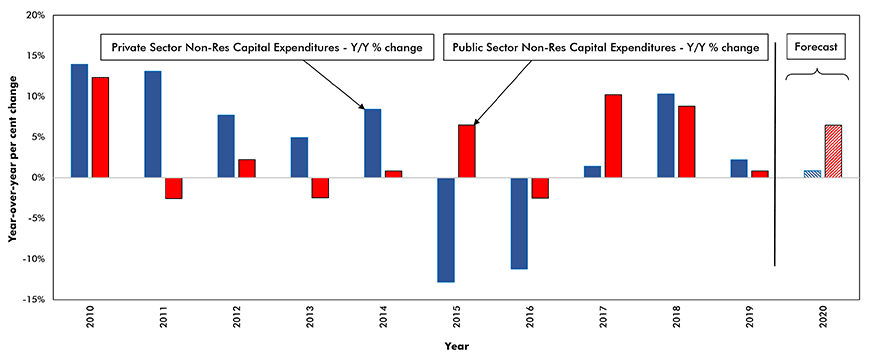 Data Source: Statistics Canada.
Chart: ConstructConnect — CanaData.