John Grimshaw is being hailed as a leader of vision and dedication whose stewardship of the International Brotherhood of Electrical Workers in Ontario led to significant advances for workers as he prepares to step down as executive secretary treasurer of the IBEW Construction Council of Ontario at the end of December.
Grimshaw's last day on the job will be Dec. 31. His replacement as executive secretary treasurer will be James Barry, elected by the council Nov. 28.
A letter from Patrick Dillon, business manager of the Provincial Building and Construction Trades Council, acknowledged Grimshaw's service to the unionized electrical sector and the broader construction industry in such roles as business manager of IBEW Local 105 in Hamilton, president of the Hamilton-Brantford Building and Construction Trades Council and vice-president of the Ontario Building Trades.
"The electrical industry as a whole has benefitted greatly from your commitments to skills training and increasing access to lifelong careers in construction for the next generation of workers," wrote Dillon, who later noted both he and Grimshaw are electricians from Local 105 who did apprenticeships with Canadian Comstock.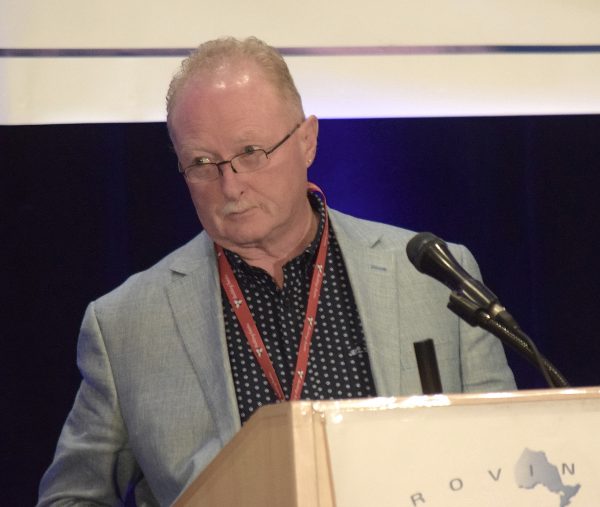 Grimshaw observed in an interview he feels confident the IBEW-CCO is in a good position under Barry and other new council leaders and that the unionized electrical sector is healthy with record membership as he prepares to depart.
Employment-wise, "I am amazed how strong we have been in the past 10 years," he said. The latest numbers show 22 million person-hours worked in Ontario and approximately 18,000 members, up from 14,000 when he started as executive secretary treasurer nine years ago.
Like any business, Grimshaw said, the key to success for a trade union is identifying strengths, building those assets then selling the package. The pitch on the IBEW-CCO website is that the union promotes worker and public safety, lifelong training, good health and security both during working years and beyond and a commitment to a better Canada for all working people.
"Across the province we have about 23 or 25 full-time organizers," Grimshaw noted. "They are on jobsites every day talking to our non-union counterparts, bringing the message of how they can make their lives better.
"It seems to be something that resonates these days."
Grimshaw said he sometimes finds it hard to believe he made the journey from construction worksites back in 1973 working as a 17-year-old non-union electrician to a leader who has advocated for the sector with cabinet ministers. Early on he encountered IBEW organizers when he showed up for work at a Levi's plant in Stoney Creek, Ont. and after conversations, he joined the union but found its club-like approach to organizing too lax.
"I thought, I think it's time you try to bring these people in and have it all in the family," he said of his more aggressive instincts.
Grimshaw was highly visible as he fought to promote the trade union sector and points to the early hopes for, then demise, of the Ontario College of Trades as a significant passion, and ultimate disappointment, of the past 10 years.
"We lobbied like crazy for the government to come in and start enforcing some of their laws and start making sure the only people who worked in our industry were properly licensed or registered apprentices," he said. "The idea of the college of trades was brilliant, Tim Armstong, his vision of what the college of trades would be aligned with what I had and our organization had but unfortunately politics and bureaucrats got in the way and it ended up being a failed experiment."
Grimshaw said he always enjoyed the role of political advocacy and said it is important union leaders establish close relationships with government ministers so that the workers' realities and the union message are clearly understood amidst other advocacy efforts such as those the ministers encounter at corporate fundraisers.
He feels he has established a very strong relationship with current Minister of Labour, Training and Skills Monte McNaughton as the government prepares to make trades policy in the post College of Trades era.
"I can't say enough how accessible he has been," said Grimshaw.
"We have been able to talk to him on almost a daily basis on what is important to us for public safety and worker safety and consumer protection and attracting new apprentices and why it's important to have a properly regulated industry."
Grimshaw said he is leaving the job because he has served a long time and he does not want to "be the guy who stayed too long."
He and his wife are both in good health and in January they will go to Mexico on vacation. They plan to travel in an RV to southern destinations as a lifestyle.
He is already thinking ahead to his final days on the job.
"I've got all kinds of mixed emotions about things," Grimshaw said. "It's hard to go from 100 miles per hour to zero career-wise. So, I am sure on my last day I will be thinking about all that."
Follow Don Wall on Twitter @DonWall_DCN.