Ontario Wood WORKS! has once again celebrated excellence in wood design in the province with the presentation of its 18th annual awards.
The program honours people and organizations that, through design excellence, advocacy and innovation, are advancing the use of wood in all types of construction.
"Each year, we look forward to honouring Ontario's wood design leaders through our wood design awards program," said Marianne Berube, executive director of Ontario Wood WORKS! "Wood construction is experiencing a renaissance and it's exciting to have this opportunity to celebrate some of what's happening in this industry."
The organization presented 13 awards at a gala Nov. 20 in Vaughan, Ont.
Eleven awards went to specific wood projects. Two were given to professionals for contributions to the building industry that advance the case for wood design and construction.
In the winners' circle this year are the following projects:
North Bay Parry Sound District Health Unit, North Bay (Northern Ontario Excellence Award)
Architect: Mitchell Jensen Architects Inc. Structural engineer: Read Jones Christoffersen Ltd.
The material palette of the two-storey building is wood-focused. The exposed roof structure is comprised of glue-laminated Douglas fir beams and decking. Wood veneer panels extend from the exterior through to the lobby, juxtaposed against a two-storey limestone wall.
Aaniin Community Centre and Library, Markham (Institutional Wood Design Award, valued at more than $15 million)
Architect: Perkins + Will. Structural engineer: CH2M Hill.
The massive wood roof of the multi-use facility functions as a unifying element, pulling the various programs and spaces together. The roof system is comprised of glulam primary beams, glulam purlins and SPF (spruce-pine-fir) decking.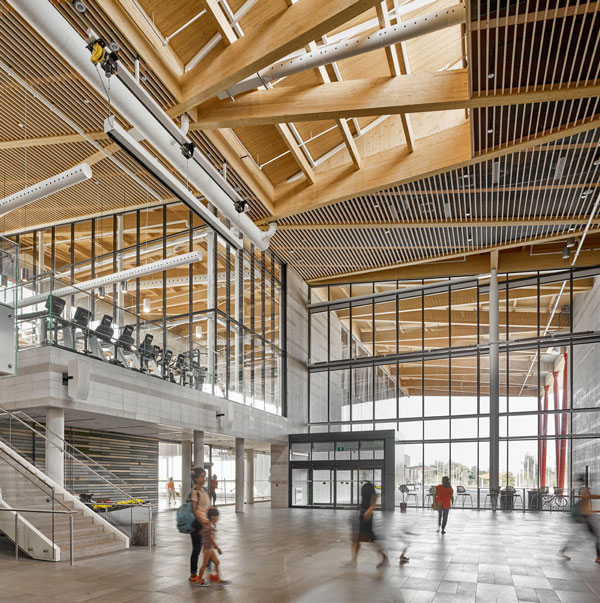 DARE (Discovery, Applied Research, Entrepreneurship) District at Algonquin College, Ottawa (Ontario Mass Timber Award)
Architects: Diamond Schmitt Architects; Edward J. Cuhaci and Associates Architects. Structural engineer: Adjeleian Allen Rubeli Ltd.
The building is comprised of four distinct but integrated program spaces. As part of the project, a new double-height third floor with a vaulted mass timber roof was added to a former two-storey library building. Nail-laminated timber was used on the curved roof.
Cowbell Brewing Co., Blyth (Environmental Building Award)
Architect: Allan Avis Architects Inc. Structural engineers: Tacoma Engineers; Debbert Engineering Inc.
Wood is used extensively throughout the facility, which has been designed to recognize the farming heritage in Huron County. The building's timber-frame structure is visible throughout the interior.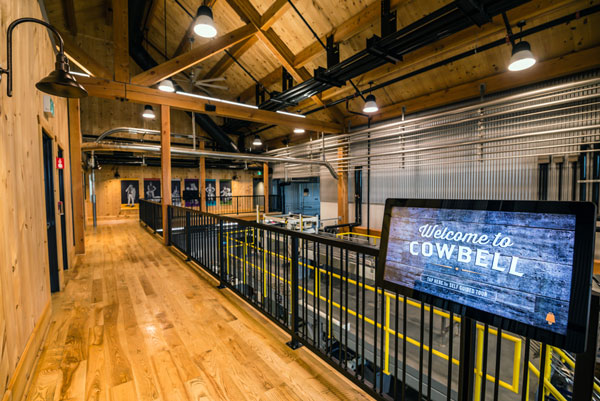 SUD Forno on Temperance, Toronto (Interior Wood Design Award)
Architect: Giannone Petricone Associates Inc. Architects
Housed in a 19th century heritage building, the bakery features a lace-like overarching structure made of "quarter sawn" solid white oak.
Clear Water Retreat, Lake of the Woods (Residential Wood Design Award)
Architect: Secter Architecture + Design
The exposed glulam skeleton of the 4,200-square-foot cabin allows dramatic, large spans between structural members. Prefabrication of the glulam structure off-site streamlined the construction schedule and facilitated installation.
AquaBlu Condominiums, Grimsby (Mid-Rise Wood Design Award)
Builder: Homes by DeSantis. Architect: KNYMH Inc. Structural engineer: Leonard Kalishenko & Associates Ltd.
The five-storey, 120-unit development was one of the first buildings to be constructed in the province under Ontario Building Code provisions permitting wood-frame, mid-rise construction.
Indigenous Sharing and Learning Centre, Laurentian University, Sudbury (Institutional Wood Design Award, valued at less than $15 million)
Architect: Diamond Schmitt Architects. Structural engineer: Blackwell.
The round room was inspired by the form of a wigwam. The primary wood girders, tipped off the central axes to look like the gunwales of two canoes, support the dome's gravity loads but also serve to resist lateral loads in the room. Modern glulam fabrication methods allowed wood to perform nearly every structural role in the facility.
OakWood showroom and design centre, Ottawa (Commercial Wood Design Award)
Architect: Hobin Architecture. Structural engineer: Levac Robichaud Leclerc Associates Ltd.
Wood elements in the project, designed to achieve LEED Platinum, include cedar soffits, rough-hewn timber roof beams and brackets, reclaimed lumber, acoustic wall panels finished in natural oak and a series of large lattice screens.
Albion District Library, Etobicoke (Jury's Choice Award)
Architect: Perkins + Will. Structural engineer: Blackwell.
Wood was the material of choice for both the interior and structure of the building, which has an exposed roof structure. Wood acoustic panels between the structural glulam wood purlins create concealed volumes for mechanical ducts and sprinklers. The same panels are used to clad the walls at the building's perimeter.
The Reach, Prince Edward County (Jury's Choice Award)
Architect: Kearns Mancini Architects.
The interior of a 19th century farmhouse was stripped down to its wood structure, sandblasted and then wrapped in an airtight skin. The renovated farmhouse will serve as a guest house.
Also at the gala, the Designer/Builder Award was presented to Toronto-based Williamson Williamson Architects Inc.
Wood WORKS! said Betsy and Shane Williamson "make regular and significant" contributions to the development of a wood culture in Ontario through their projects, practice and mentorship efforts.
Wood Champion Awards were presented to Mayor David Canfield of Kenora and Mayor Alan Spacek of Kapuskasing. The duo were recognized for their long-term leadership and commitment to building with wood.
Wood WORKS! is a national, industry-led initiative of the Canadian Wood Council that promotes and supports the use of wood in all types of construction.