Sarah Hall's future career as a large-scale glass projects designer became her destiny at the age of nine.
It was circa 1961 that young Sarah spent many months tailing along with her father and other members of the St. Marks United Church building committee of Dundas, Ont. as they examined church designs throughout the region.
The stained-glass windows in particular awed her.
Hall recalled those feelings of fascination during a recent interview in which she reflected on being named a member of the Order of Canada. The new class of 110 companions, officers and members was announced by the governor general Dec. 28.
"I spent a whole year when I was nine sitting and looking at the colour and light in these various churches, so colour and light and buildings were absolutely formative for me," Hall explained.
"It was the idea that colour and light can create an environment for us that transforms the world. That is what I first fell in love with, not pictures of saints or Victorian decorations," said Hall.
She studied at the Architectural Glass Department at Swansea College of Art in Wales, U.K., then in Jerusalem and then established her own studio in Toronto in 1980. Over the next 40 years Hall developed an award-winning portfolio of international projects that includes public and private windows, glass walls and cladding and, in recent years, glass treatments that have incorporated solar energy and bird-safety technology.
She has also acted as a mentor and teacher with her syllabus Art & History of Stained Glass first taught at Regis College at the University of Toronto. Three books have been dedicated to her work.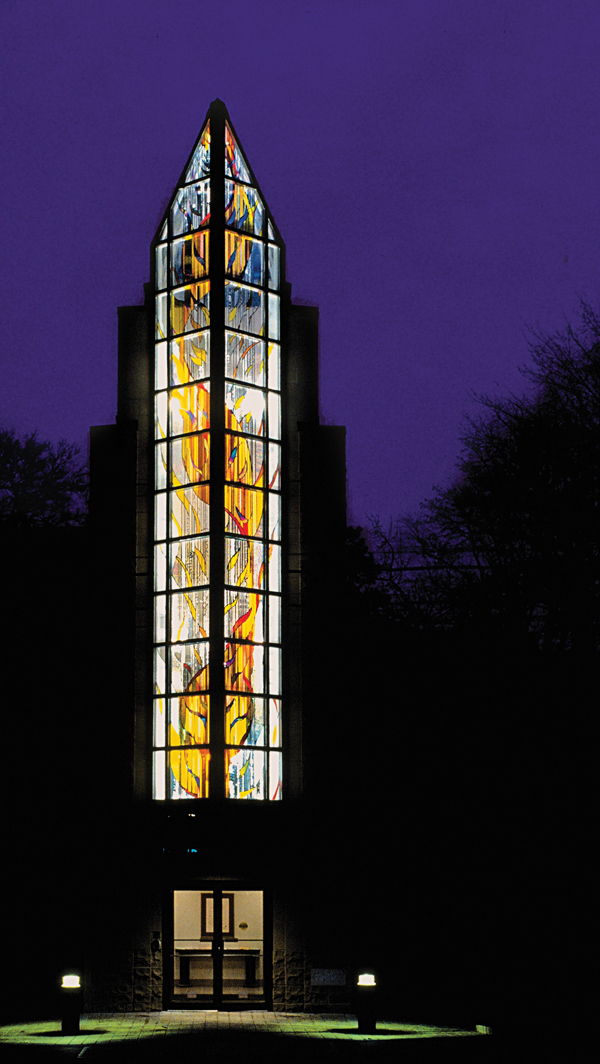 Notable projects featured on her website include a work titled Radiance, Reflection, Revelation, a 50-foot-high tower of glass for the First Unitarian Congregation of Toronto; Lux Gloria, consisting of five huge solar art glass windows at the Cathedral of the Holy Family in Saskatoon; and the Waterglass Solar Art Glass Project at the Harbourfront Centre in Toronto.
She has been incorporating photovoltaic cells directly into her artwork since 2000, collaborating with a solar engineer in Germany.
"It was pretty frightening," said Hall, now a resident of Prince Edward County in Ontario. "Not only did my panels have to be well executed within the standards of stained glass that I knew, but they also had to be working electrical panels, receiving certification from CSA or UL."
The Saskatoon project was the first cathedral in the world to incorporate photovoltaics within stained glass.
"It is south-facing so it is collecting a tremendous amount of energy," said Hall, noting that the city's motto is Saskatoon Shines and it receives more sunlight than any city in Canada.
The windows are 37 feet high and 12 wide and rhombus-shaped, which meant all three layers had to be done by hand including the installation of 1,000 solar cells.
Hall said she has had many intense moments presenting her vision to designers and contractors.
"You have to be determined," she said, "You have to say, these windows are giving the same thermal value as triple panes, and you show them the price and you go back to the studio and they say, well, can we do it for a little bit less, and then you find agreement.
"Everybody likes to weigh in on things, especially when you do something new."
Hall said she has perfected the bird-friendly technology to the extent that it is almost 100 per cent reliable. So, when she talks to an owner about a church project, she says, they may initially be concerned about esthetics but, she said, "I find it more interesting to engage them in more modern environmental concerns."
Hall got the call from the governor general's office in early December.
"I was absolutely blown away," she said. "I feel it is the greatest honour I could have. I have had dozens of awards from the United States, the American Institute of Architects, but there is nothing like being recognized at home."
Follow the author on Twitter @DonWall_DCN.