Busting myths about mass timber, from its cost to its fire resistance, can go a long way to helping the industry develop as it should to gain a place in the building world.
At a recent Construct Canada webinar held as part of Buildings Week, Mark Gaglione and Vincent Davenport of EllisDon's building sciences group, identified and dashed some of those myths and misinformation around the relatively novel building material.
Expect no price breaks on tall mass timber buildings. Premiums of  five to 10 per cent over concrete on the overall costs of timber buildings more than six storeys tall are typical, Gaglione, building and materials sciences specialist said, noting EllisDon's building sciences group is tasked with keeping the builder on the leading edge of the mass timber industry.
He said the higher price is largely based on alternative solutions required to get approval to build beyond the six-storey maximum under the building code.
Additional fire suppression measures are part of the higher tab. Multiple water supplies, fire pumps, interconnected risers, higher density sprinkler coverage and an increased hazard level classification which changes how sprinklers operate are examples, he told the webinar audience.
Timber builders also face up to 10 pe rcent higher insurance premiums (rates vary on building sector) than cast-in-place concrete, Gaglione explained. The rates are based on issues ranging from the type of tower core engineered and drywall supply required to balcony materials and speed of installation.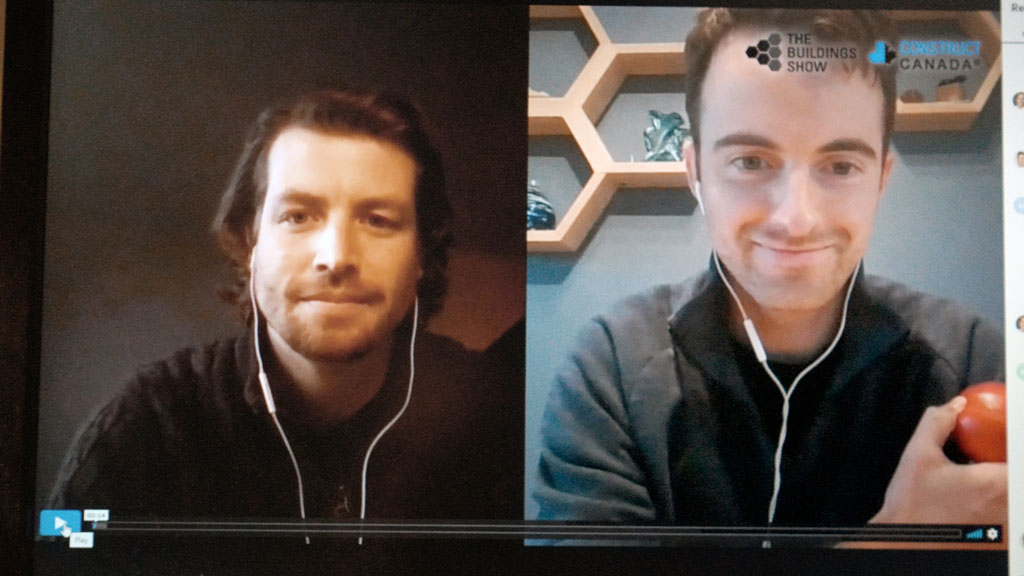 Some insurance carriers place capacity limits on mass timber buildings, forcing builders to use several carriers to write up a "subscription policy" to "spread the risk around," he added.
Carriers can be tough on mass timber partly because the industry is relatively new, Gaglione said.
"There are very few buildings out there for underwriters to go and view."   
COVID-19 has made it even more difficult to insure, he added.
Davenport, manager of EllisDon's building sciences group, dashed the myth that mass timber buildings go up quicker than concrete.
When evaluating the speed of construction, it is paramount to look at the total construction cycle schedule to determine the true pace of construction, he told viewers.
While prefabrication gives timber an erection advantage and it, like steel, is ready to use once up, concrete requires a wait period to achieve full strength, Davenport pointed out. 
Still, there are steps to timber erection that also delay construction. Requirements for acoustic mats, topping with pour stops and moisture mitigation are examples, he added.
"For the few floors we gain we don't necessarily benefit from because we're adding other activities to do on those floors," he said.   
Davenport said timber erection times on a 20,000 to 30,000 square foot floor plate are similar to structural steel. 
The EllisDon team busted the myth that mass timber projects are mostly comprised of wood.
"The optimum approach for every building is often a hybrid of steel, concrete and timber, each material being used to its own strength," said Gaglione.
Some timber detractors steer away from timber because of supply shortage fears. The EllisDon team, however, suggested there is probably ample product supply in Canada and a number of high quality manufacturers in Europe can be sourced for additional product.
Gaglione said another builder concern is that the engineered timber products can't get wet but, in fact, many products can tolerate some moisture.
"You have to come up with a plan for that wetting and drying."
Timber arriving on a construction site is typically at 12 per cent moisture content. The objective is to keep that content at or below 16 per cent throughout construction, he said.
Even with a robust strategy to reduce and protect the product from moisture, a secure envelope and concrete topping, are examples, problems arise that require mitigation, he added. 
EllisDon is undergoing a several-months-long moisture program in which cross-laminated timber samples are supplied with various protective coatings and exposed to different weather conditions and mitigation strategies, Gaglione said.
Both EllisDon employees see some issues where low headroom can be a concern in timber designs but there are design strategies to minimize or eliminate the problem, they said.