WINNIPEG — Winnipeg's CentreVenture Development Corporation has announced the New Market Square entry from Montreal's Daoust Lestage as the winning design submission for the Market Lands southern parcel design competition.
The competition to create a vision for Winnipeg's Exchange District will lead to construction of a thousand units of affordable housing with a main floor cultural hub, a public market building and public realm and plaza space, indicated a recent release.
A central feature of the Daoust Lestage submission was a standalone glass market structure and surrounding plazas intended to create a welcoming space for visitors, with multiple uses. The submission was unanimously selected by the jury.
"The winning design best responded to the competition program and presented the most successful concept to achieve a wonderful new destination in downtown Winnipeg," said architect Dudley Thompson, professional adviser to the design competition, in the statement.
The jury noted the orientation of the plan followed the historic footprint of the market and ensured the public spaces would access sunlight throughout the year and at different times of day.
"The new market square provides a strong new connection between the Red River College heritage buildings, Old Market Square and City Hall complex," noted the release.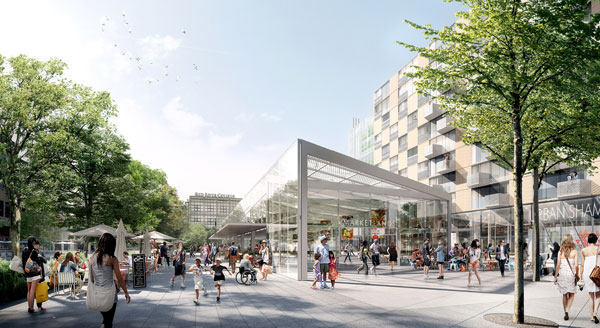 "The jury found the team's proposal to place the new market building overtop of the historical shadow of the original market building very powerful and fitting for the project. The openness and daylight proposed for the glazed market demonstrated very positive design ideas.
"The jury also had a strong connection to the simplicity of the market plaza with functional areas on all sides of the market building for market day expansions. They also liked the connections between the market building and the cultural spaces opening into the plaza between the buildings."
The Daoust Lestage submission was a collaboration with Entuitive, Transsolar, Tetra Tech and Rina Greer.
Over the next year CentreVenture will work with the Daoust Lestage team and other community partners to further refine and detail the design, the release said. Construction of the project is expected to commence in 2020.
The design competition was launched in July 2018. Twenty-three design teams from across Canada submitted proposals during the pre-qualification stage of the competition.
In October 2018, five teams were shortlisted to participate in the design competition. On Dec. 7, 2018, the five design proposals were presented in a public forum to the jury.