The COVID-19 pandemic has resulted in unprecedented impacts and challenges for the construction industry to deal with. Explore here the issues, trends, obstacles and solutions you need to tackle this crisis.
Special Coverage of COVID-19
Feature Articles - COVID-19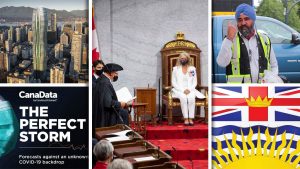 The top JOC headlines this week feature an election call by B.C. Premier John Ho...
More
More Articles - COVID-19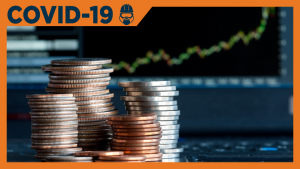 The economic impact of COVID-19 has disproportionately affected women, younger w...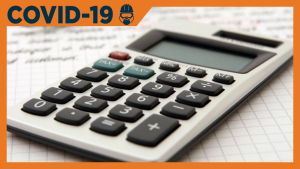 VANCOUVER — Construction delays related to a COVID-19 shutdown of its Quebrada B...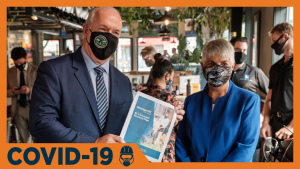 Premier John Horgan has released Stronger BC for Everyone: BC's Economic Recover...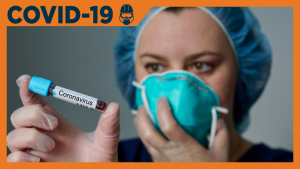 OTTAWA — Federal Conservative Leader Erin O'Toole says he, his family and some p...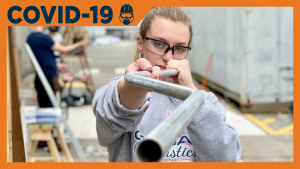 One of British Columbia's leading construction educators is building new trades...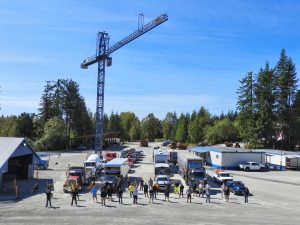 To thank the province and honour workers who are helping keep construction going...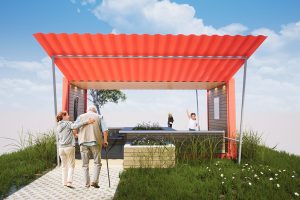 A Winnipeg designer sees a world where pre and present-day pandemic trends will...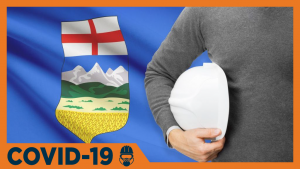 EDMONTON - The Government of Alberta is pointing to COVID-19 and the collapse of...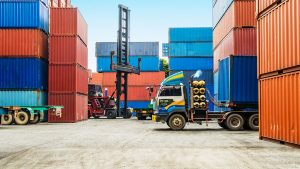 Due to its complexity, much of the subject matter concerning the economy require...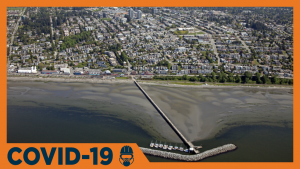 The COVID-19 pandemic has inspired considerable innovation in the Canadian const...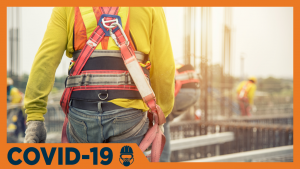 VICTORIA - British Columbia reported one new community outbreak of COVID-19 toda...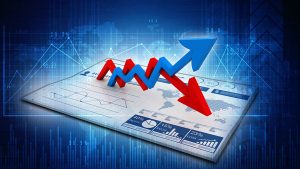 Gasoline and Apparel at Opposite Ends of Elasticity Equation An interesting...
More
Latest Infographics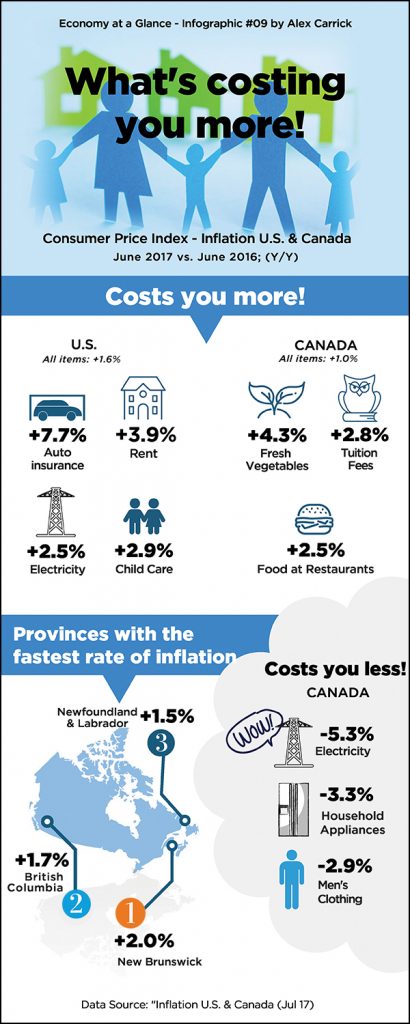 Consumer Price Index - Inflation U.S. & Canada What's costing you more!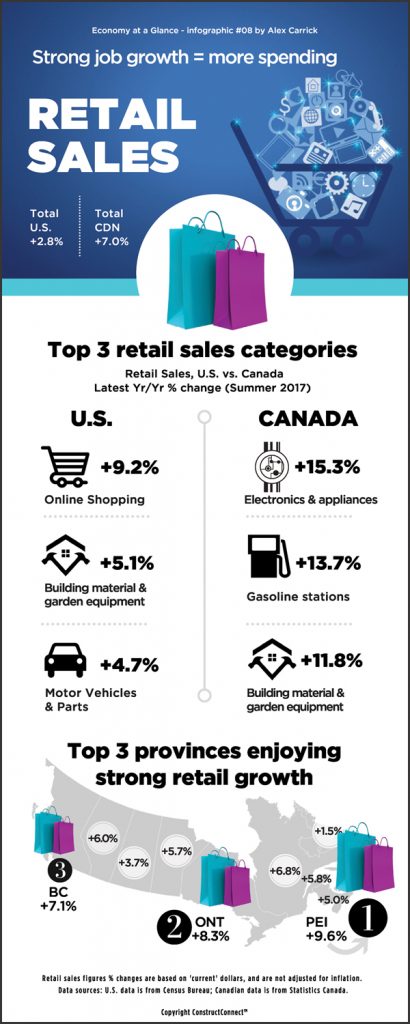 Strong job growth = more spending U.S. vs. Canada Retail Sales (Summer 2017)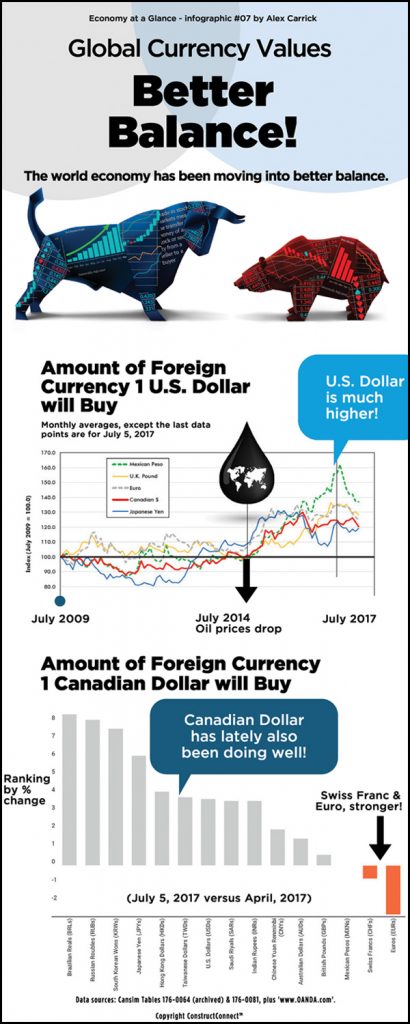 The world economy is in better balance and the U.S. and Canada are doing well.
Most Read Articles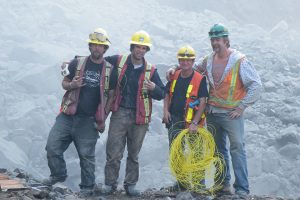 A former manager for Peter Kiewit Sons facing criminal negligence charges for th...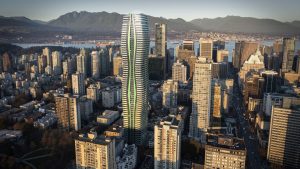 A landmark, 60-storey skyscraper that will be the tallest Passive House in the w...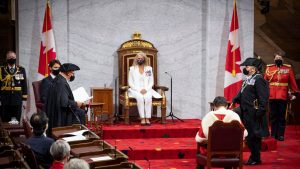 The Justin Trudeau government intends to create thousands of jobs by supporting...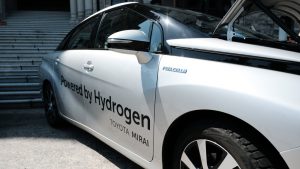 VANCOUVER — B.C. officials have announced $10 million in funding to build and op...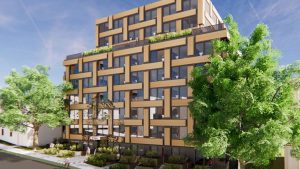 A Passive House social housing project for Indigenous people that will feature a...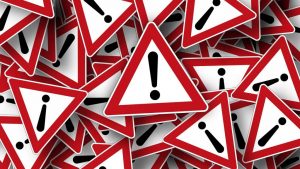 AUSTIN, TEXAS — Two cranes collided and at least partially collapsed at a constr...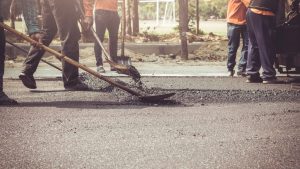 GOLDEN, B.C. — The Government of British Columbia has chosen a preferred propone...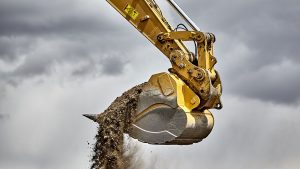 Texas the Leader, but Accolades for Missouri and Indiana According to Construct...
More